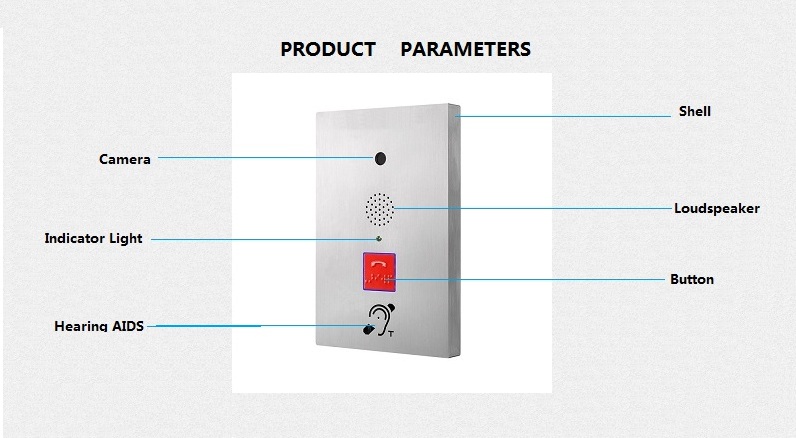 School intercom KNZD-20W
The school intercom is designed and produced for the school intercom system.The intercom with camera can observe the situation around the intercom. In some old schools, the school emergency intercom system is not perfect. We independently developed the designed school intercom system, cooperated with the column-type POE column, the intercom system and the campus broadcasting system into the intercom ip pbx system. The school intercom uses ip network communication, the cost is low, the call quality is good, and the signal is stable.
The school intercom system
The school intercom system we offer features a central console for emergency dispatch in emergency things. the varsity radio link with camera provides full-duplex two-way audio intercom for academics and students, that improves the security of the varsity and totally meets the requirements of varied colleges. the varsity intercom system we provide has ip and analog versions, that you can easy to install. the school intercom uses a one-button decision and one button to access the duty area.The school intercom System offers an easy, efficient, intercom system.This faculty intercom system will operate with multiple indoor/outdoor zones and may communicate with every specific communication system station severally. As a communication system resolution, this faculty intercom system offers straightforward installation and growth at any single or multi-building faculty.Educational communication intercom systems, specifically designed for college applications, embody distinctive options that square measure employed in the daily operation of instructional facilities.
Our school communication intercom system Solutions Include:
IP or ancient Analog Paging
Emergency Message Notification Telephone System property
School Clock System ( scientific discipline, Wired or Wireless)
Door Entry Communications Centralized Admin station
Web useful interface management
School intercom System for Two-Way auditory communication and Emergency Notifications
Provide two-way voice communications throughout your faculty facility, no matter size
Send emergency notifications quickly and simply from a main communication system console or over the phone
Enhance safety with machine-controlled weather alert electronic messaging and emergency push stations
Add, Replace or Upgrade your existing faculty intercom System
Replace associate degree previous, non-functioning communication system system while not running wires
Add indoor/outdoor wireless speakers to associate degree existing communication system system
Expand associate degree existing communication system with two-way communication system communication Intercom Paging Program distribution in-built master clock Secondary clock correction Time tone sign for sophistication changes Utilizing associate degree easy-to-use desktop instrument, communication between body workers and school rooms is quickly established.
academics will quickly initiate a decision to the workplace within the event of associate degree pressing scenario in a very schoolroom with one bit of button.
intercom systems use silicon chip based mostly technology to determine direct communication between any terminal and desktop instrument.
What is a intercom system for school?
The intercom system is a complete, batch-manageable control system that uses a intercom to transmit voice or video images over a voip network. The intercom system is installed in the school, and can be used as an intercom system for emergency rescue of the school. The intercom can also be installed in the classroom. The teacher can directly call or inform the classmates in the classroom through the desk phone. The intercom system provides two-way full-duplex voice and video calls. Click here for details:https://www.koontech.com/ShowSolution68.html
What is a school pa system?
School pa system is one of the indispensable infrastructures of every school. Although video technology and network technology have developed rapidly in recent years, the pa system is still used by various schools for its practicality, economy and convenience. At present, all kinds of schools basically have a public pa system, which is mainly used in various public places, such as holding school activities, notices, raising national flags, inter-class exercises, broadcasting inter-class music, commending advanced, holding a school conference. With the continuous development of modern information technology, the popularity of multimedia teaching in the vast number of primary and secondary schools, the need to use the school pa system for voice teaching is constantly increasing, especially the popularity of music ringtones, the implementation of English listening test, etc., on the current pa system The functional capacity, sound quality, intelligent level, etc. put forward higher requirements. Click here for more details:

https://www.koontech.com/ShowSolution74.html
2.
Braille button IP66 with light On/flash/Off
.
3. Dry contact 1 group output
4. Infrared HD Camera night vision.
5. Unite Waterproof rating IP65 dust proof.
6. Super anti-noise technology and quiet communication.
7. Support One-way video call, Built-in real 3W speak.
8. Temperature range from -40 degree to +70 degree.
9. Support standard Session Initiation Protocol(SIP), RFC 3261.
10. Calling indoor extension for two-way conversation.
11. Support deep echo cancellation.
12. Remote software upgrade, configuration and monitoring.
13. Built-in dynamic noise reduction, to achieve high-quality voice communications.
14. Surface electrophoresis coating
,
Long time no rust, no fingerprint stain.
15. Power supply: DC12V. Optional POE upon requested.
16. Application: Tunnel, metro, railway, LRT, speedway, marine, ship,offshore, mine, power plant, etc.
As Public telephone for indoor or outdoor, elevator phone, Taxi or bus stands or station,
Highway call box. Railway, metro, ATM machines side, Tunnel, Port, Dock, Mines, Generation
A good ideal telephone for use in wet or corrosive atmospheres
Camera: Image Sensor:OV9712 Total Pixels: 720P(1280*720) 15fps
Min. Illumination:0.1lux Field of view:150° horizontal *Opposite 170°
Framerate:15fps, H.264 Lens size: 1/4 inch
VoIP SIP2.0 telephone DTMF dialing
MTBF:100000hours MTTR: 2 hours
Hotline call-- Browser configuration
Communication: Full duplex 2-way hands-free communication
Call Control Signaling: VOIP SIP Info(DTMF), RFC 2833(DTMF)
Local power, 12VDC,Idle 2W, Max 10W
Auxiliary Contacts:1 Aux Output, dry contact
Contact Ratings. Load: Resistive load
Rated load:0.3 A at 125 VAC; 1 A at 30 VDC
Rated carry current:1A
Max.switching voltage:125 VAC,60VDC
Max.switching current:1A
INSTALLATION
Audio Codes:G.711, G.722, G.729
Network:10/100 Base TX Ethernet, RJ45
connectors, Cat5e or better
IP Protocols: IPv4, UDP, DHCP, SIP
1 X LAN Protocols
1X WLAN(IEEE 802.3af), Network Access
Programming: Non-volatile flash memory
programming and configuration through Web GUI
Management and Operation:DHCP and static IP,
remote automatic software upgrade, centralized monitoring, status LED
Echo cancellation code:G.167/G.168