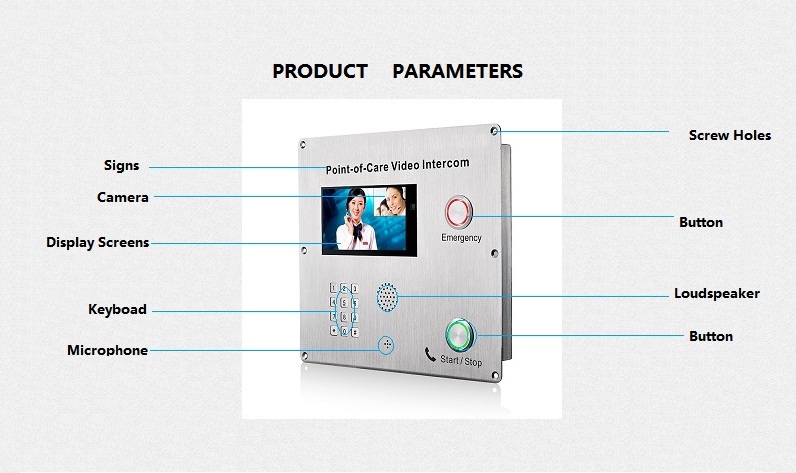 Sip intercom KNZD-70W
The sip intercom is often used in the subway to help. The intercom uses a high-definition camera with video intercom.
What are the advantages of using sip intercom over non-sip intercom?
The sip intercom with camera is a intercom that communicates based on the session initiation protocol. Sip intercom is based on network signals Make a call, the call is free, and the signal is stable. And the intercom can access the sip server to form a complete set of powerful emergency intercom system. After accessing the sip server, the intercom has automatic backup, broadcast, and queue functions.
Something about sip Intercoms
When it involves home security or geographical point safety, the sip intercom system may be a must-use. KNTECH SIP intercom communication system stations ar strong, versatile, and supply exceptional audio quality.SIP Intercom With its noise reduction feature, it provides crystal clear conversations in wheezy environments.Sip intercom is a voice intercom with PoE SIP standard. It is atmospheric and compact, and can be used for hands-free intercom.Sip intercom is often used as an emergency intercom in schools, airports, and subways.
The sip intercom often as an alternate to the popular SIP Doorphone. and therefore the appearance offer a good initial impression of you once used as a door entry resolution.Connecting your sip door intercom to a VoIP telecommunication system then your guests will be greeted from any phonephone and be allowed entry by simply a press of a key!
Compatible with SIP PBX Server
Installation and configuration ar via an easy intuitive internet interface. Centralized provisioning is supported. till registered with a SIP server, a press of the decision button "speaks" the informatics address sanctioning access to the net interface of the device victimisation any application program.
Integration with most hosted / cloud or premise VoIP phonephone systems ensures that the sip intercommunication system will be organized to speak with any device.
The code intercommunication system Server supports SIP stations likewise as 3rd-party SIP phones.
The intercommunication system station is usually used as a UA in registered mode towards a Session Initiated (SIP) Server. The intercommunication system station has all basic practicality like Registration, Authentication, UA-to-UA decision, and DTMF.
Pure Serverless Communication
SIP stations associate degreed SIP capable telephones interface seamlessly into an intelligent communication network while not the necessity for a server.
PoE broadband informatics intercommunication system For Door Entry Applications / workplace Communication - outside.
Wideband G.722 codec support provides optimum speech clarity and comprehensibility for essential safety, security or emergency applications wherever reliable spoken language may be a primary thought.The sip intercommunication system for schoolroom workplace and Entrance Communication
SIP intercom options
Vandal and water-resistant
Designed in chrome steel (A304) to resist corrosion
SIP support for integration to several iPBX systems
Support integration with third party management tools via open protocols
Integrated knowledge switch with advanced networking and security functions
Relay output for device, e.g. doors, signal lamps and gates
Powered from the informatics network cable victimisation Power over LAN (PoE)
Superb audio quality – high information measure codec, active noise cancellation, acoustic echo cancellation and high output power electronic equipment
Powerful 1080p video resolution
SIP terminus with auto-provisioning capability
Initiates or accepts calls
SIP stations by KNTECH ar designed to continually connect you to the proper contact person – whether or not at the lot gate or entrance door, at the stop or information/emergency decision terminal.
Reliably and in excellent speech quality.
Network managed and supervised SIP terminus
Eliminates FXS port or ATA
PoE (802.3af) for plug and play network property
One piece resolution different for the popular 8028 SIP Doorphone
Wideband G.722 audio for clarity and comprehensibility
Network managed and supervised SIP terminus
Attractive style in twin gang type issue for applications inside and out
SIP compatibility with all leading UC vendors such as: Avaya, Broadsoft, Cisco, Digium/Asterisk, Mitel, Metaswitc
What is sip intercom
Sip intercom, the internal communication station is usually used as a UA in the mode of session start (sip) server, which is used for all basic functions, such as registration, authentication, UA to UA phone, DTMF.sip protocol intercom terminal With the market demand, some sip intercom support video, the protection level reaches ip65 or ip66. Depending on the usage environment, sip intercom can be installed on the column, or can be embedded in the wall, or can be used as a help guide station. In public.
What is a sip call
SIP (session initiation protocol) stands for Session Initiation Protocol, a signaling protocol used to initiate, manage, and terminate voice and video sessions in a network, specifically to generate, modify, and terminate one or more participants. Session between users, it can be used with the VoIP (Internet Protocol Voice) telephone system. SIP's business model is a peer-to-peer protocol, which has two elements - SIP user agent and SIP network server. The user agent is the terminal system element of the call, and the SIP server is the network device that handles signaling associated with multiple calls. The user agent itself has a client element (user agent client UAC) and a server element (user agent server UAS). The client element initiates the call and the server element answers the call. This allows point-to-point calls to be done through a client-server protocol.
Is the Sip call free?
Yes, it's completely free. Using sip calls anywhere is completely free.
1.VOIP Telephone BI-Directional
Video telephone
Scratch resistant, HD Screen
2.SIP supports 5 SIP servers SIP 2.0 Support TR069
3.7" digital TFT-LCD of 1024 x 600 pixels with Visual angle adjustable display screen
4.sensor camera with 5Mega pixels 2xLAN, PoE, USB
5.TWO group of speed dial for emergency call. Protection: About IP65
6.Speaker: 8 ohm 1.5W, loudness 85dB(A) to 65dB(A) MIC's working distance 80cm
7.Ring: >95dB. Coverage 1.5m radius
8.The call button is flash when ring, lighting during a call, off when standby.
9.With induction loop coverage 1M radius. Metal body
10Braille words for disable.
11.HD voice with high quality headset/HD voice in speakerphone mode
1.Array size::2592 x 1944 2.Lens size: 1/4"
3.Lens chief ray angle: 24 4.Input clock frequency: 6~27 MHz
5.Maximum Image transfer rate: 6.QSXGA (2592 X 1944): 15fps
7.720P 8.Sensitivity: 600 mV/lux-sec
9.Shutter: rolling shutter/frame exposure 10.Maximum exposure interval: 1964 xTROW
11.Pixel size: 1.4 um X 1.4 um 12.Dark Current: 8 mV/s @ 60℃ junction temperature
13.Image area:3673.6 um X 2738.4 um 14.viewing angle: 187°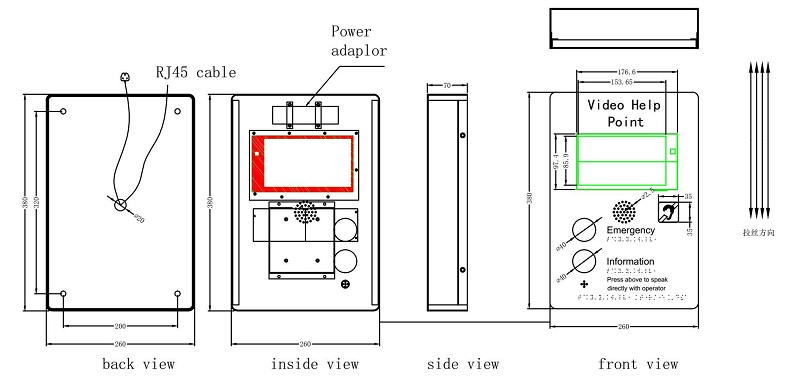 EN55022: emissions EN55024: immunity
Ingress Protection: GB4208-93 IP66 FCC
ITU-T Recommendations K21
EMC: EN50121(Railway application-Electromagnetic Compatibility)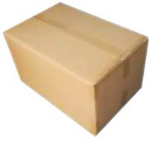 Unit size:430*260*70mm Unit: N.W:4.25kg
You May Like: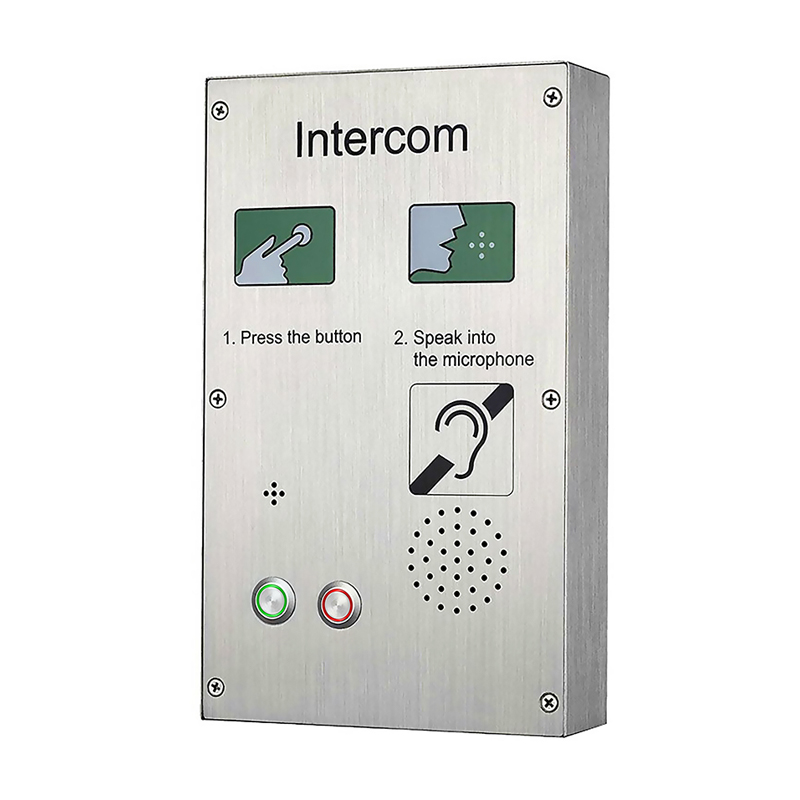 KNZD-30-2IPIL
Emergency Intercom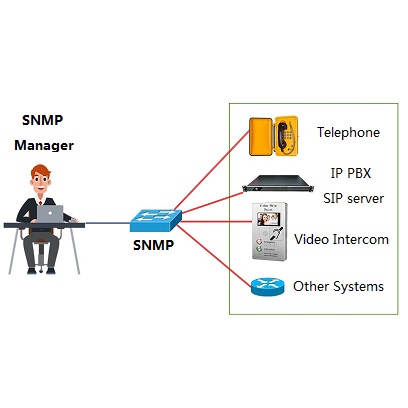 NMS-X1 SNMP
Unified network management system
KNZD-16
Help Point Intercom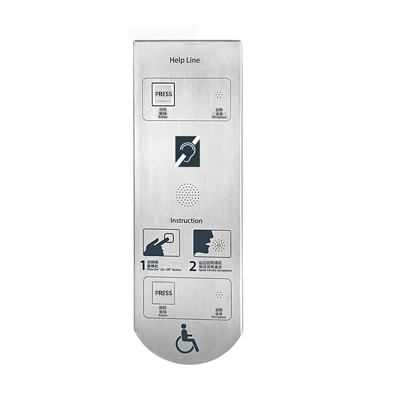 KNZD-17
Emergency help point