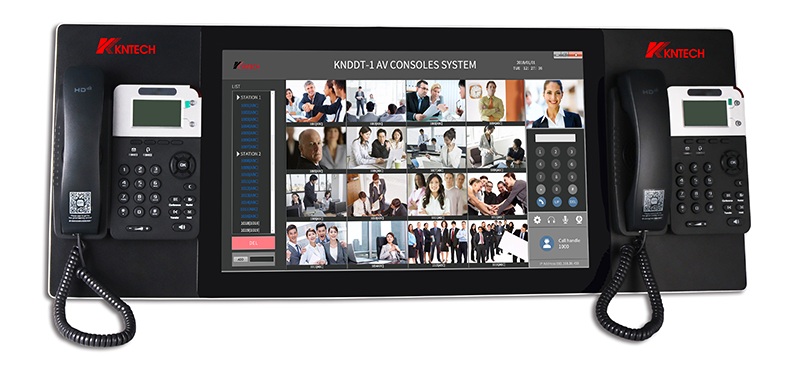 Operator Console KNDDT-1-AV21
Operator console center for telephone system with ip pbx server software.We are the manufacturer of the operator control center, which is sold all over the world and is used in various engineering fields such as subway, tunnel, bus, railway, large factory.Usually based on pbx server, used together as the entire communication schedule.The operator console as a telephone switchboard and functions primarily as a telephone dispatcher. The operator console is a communication system based on the ip pbx server, which has multimedia functions such as video conferencing, multi-party calling, demolitions, and hang-up.Operator console center KNDDT-1-AV21, a video and audio Operator console.This is a call control center with two handles.Monitor all the station while they are on the waiting list,it can also automatically upload video communication video to FTP Server.up to 16 station on the call waiting list. it can recording for each call with file name date and id number.
main feature
Monitor all the stations while they are on the waiting list
Audio and Video communication
Video streaming automatically uploading to FTP server
Up to 16 station on the call waiting list
Video recording for each call with file name date and ID number
+ 21 inch capacitive screen dispatching station
+ Industrial dustproof High and low temperature resistance Strong anti-staining Strong compatibility
+ Professional Development for Transportation, Metro, Railway, Expressway, Public
+ Security Call Systems. Intercom System, Petroleum, Coal, Mining, Nuclear Power Plant.
+ Widely used in many fields
+ Sensitive touch screen
+ The capacitive screen has a faster contact speed and a longer life.
+ Multi touch, quick response, and comfortable touch experience
+ Innovation upgrading Everything is only better for quality
+ Stable
+ The multimedia scheduling software is specially designed for the realization of simple and intuitive voice scheduling operation. It can be used in the dispatching station or in the ordinary PC.The multimedia scheduling software running on it can implement various functions such as voice scheduling, broadcast scheduling, video scheduling, conference, MCU management short message, broadcast reservation, call recording, recording management, backhaul management and address book.
+ Through the scheduling software, we can visually see the grouping and status of each voice and scheduling terminal, and can realize call, standby, transfer, forcing, demolit, monitoring, broadcasting, telephone and conference through touch screen (or mouse) click. The scheduling function can intuitively view the call list and recording data in the dispatching system.
Operator Console Size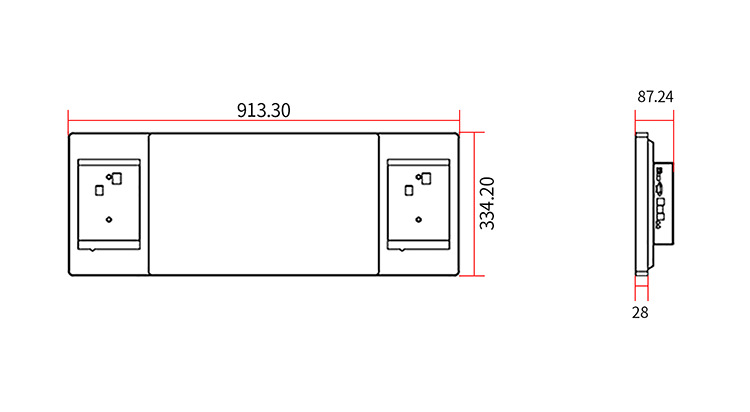 Operator console for telephone system with soft client software
A.Each operator console is equipped with user IDs and login passwords.
B.All operator consoles are with the same display and facilities for answering incoming calls and serve as a redundant console.
C.The system handles a minimum of ten simultaneously
D.Call-waiting message shall be played to the caller. The messages shall be recorded in English.
E.Emergency Telephones are as queues on the basis of "Fist come,first served"
F.As calls are answered,the operator console display shall be rearranged.
G.When a call is a answered the indications corresponding to this call shall be cleared
H.Message flashes if the maximum number of incoming calls is being displayed.
I.Call clearance shall be done when either the caller or the operator console ends the call.
J.It shall be possible for the operator to re-define/re-programme handling, answering and distribution of incoming calls to all the operator consoles at the operator consoles
at Main and Standby OOC. The Contractor shall propose how incoming calls would be handled and attend to operator consoles for the Engineer's review and acceptance.
K.The operator is able to put the caller on hold and attend to another incoming call.
L.If the maximum number of incoming calls is being displayed and another incoming call has been initiated,it shall cause a message to flash, on the corresponding display of
the relevant console to indicate that calls are waiting.
M.If all operator consoles are engaged, a voice message which informs the caller that his call will be attended to shottly shall be automatically played.
N.Incoming calls cause all or designate logged-in operator consoles to ring based on the accepted call handling design.It is able to allow operators to disignate logged-in
operator consoles by geographical locations.
O.Operator console allows operators to retrieve emergency Call system calls which are put on hold, even if that call been placed on hold by another operator.