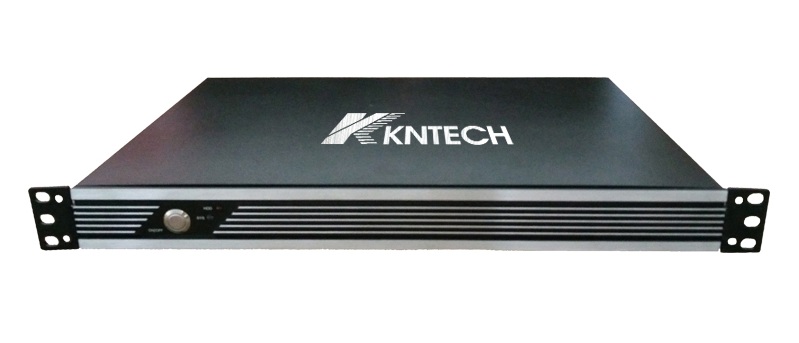 SIP Server KNTD-300
The SIP server is the main component of the IP PBX and is responsible for establishing all SIP phone calls in the network. It is also called a SIP proxy server or a registration server. Normally, the server does not participate in the media processing process. In SIP networks, media generally always adopts end-to-end negotiation processing. In some special cases or business processes, such as Music On Hold, the server will also actively participate in media negotiation. A simple SIP server is only responsible for session establishment, maintenance, and cleanup, but with multiple interfering calls. The relatively complex server, also known as SIP PBX, not only provides support for basic calls and basic sessions, but also provides rich services such as Presence, Find-me, Music On Hold, and so on. Most servers are based on the Linux platform, and the typical representatives are: Kamailio, OpenSER, sipXecx, etc. There are also some servers based on the Windows [2] platform, typically represented by: miniSipServer, Brekeke, etc.
UC features for up to 300 users
Our sip server supports up to 300 sip telephones at the same time, which means you can manage up to 300 phones in a single phone system.This
secure and reliable IP PBX delivers unifed communication features at an unprecedented price point it
hout any
licensing fees, costs-per-feature, or recurring fees.The IP PBX system supports holding teleconference, and several meeting Bridges can be held at the same time. Inside or outside line Numbers can be invited during the meeting, and the meeting room can be recorded all the way.
How does the sip server work?
The Sip server is the main component of ip pbx and is responsible for establishing all sip phone calls on the network.Normally, the server does not participate in the media processing. Throughout the ip pbx, media is always handled in an end-to-end negotiation. It provided by KNTECH is responsible for session establishment, maintenance, and cleaning. It not only provides basic calls, basic session support, but also provides rich media functions such as queue, broadcast, and multi-party calls.
On which tcp / udp port does the server running the sip protocol listen for unsecure communication?
The default port number of the Sip protocol is 5060, which belongs to the udp protocol.
The 5060 registered port of the SIP can be modified to other unoccupied UDP ports. In particular, accessing the server through the public network and modifying the default port number can improve the security of the system.
Servers running the sip protocol can accept unsecure or secure connections. Secure connection, mutual TLS is used with SIP and RTP communication.
By default, the sip server listens for insecure communication on the 5060 TCP port.
Listen for secure communication on port 5061.
What is a proxy server?
SIP sessions use up to four main components: SIP User Agent, SIP Registration Server, SIP Proxy Server, and SIP Redirect Server. These systems complete SIP sessions by transmitting messages that include the SDP protocol (which defines the content and characteristics of the message). SIP User Agents (UAs) are end-user devices, such as mobile phones, multimedia handheld devices, PCs, PDAs, etc., used to create and manage sip sessions. The user agent client sends a message. The user proxy server responds to the message.

What is SIP?
Sip stands for session initiation protocol and is mainly used in VOIP but it is not a Voip protocol. Sip is an application layer protocol. Sip mainly replaces traditional signal carriers through the Internet for language and video functions. The sip protocol is an Internet-based text protocol, so it has more powerful functions, such as text transmission and multi-party conferencing.
What is sip server?
Sip server can be combined with voip gateway, sip phone into ip pbx.It also called sip proxy, sip proxy server, mainly used for call processing in ippbx as a telephone, managing call setup, disconnection and control between sip phones routing. The server usually has basic functions such as proxy, redirection, registration, etc. The sip proxy server usually forwards the request and response received by one UA or another proxy to another proxy. SIP redirect server responds to sip request, but does not Request to transfer to another user. Sip registration server, you can register the sip phone to the server and record the information of the sip phone. Sip server software integrates these three functions into one software and is processed by one server.
What Does sip server Do?
1. Establish a session between two or more endpoints (multiple conference rooms use multiple points, sessions include voice and video)
2. Perform data transmission of text, voice and video.
3. Transfer the session
4. Create multiple users for free
5. Free calls
6.Web-style interface management
7. Terminate the session
KNTECH IP PABX Model Number simultaneous calls
| | | |
| --- | --- | --- |
| Register user | Simultaneous Calls | Model Number |
| 50 line | 15 line | KNTD-50 |
| 100 line | 30 line | KNTD-100 |
| 300 line | 90 line | KNTD-300 |
| 500 line | 150 line | KNTD-500 |
| 800 line | 400 line | KNTD-800 |
| 1000 line | 300 line | KNTD-01K |
| 3000 line | 900 line | KNTD-03K |
| 5000 line | 1500 line | KNTD-05K |