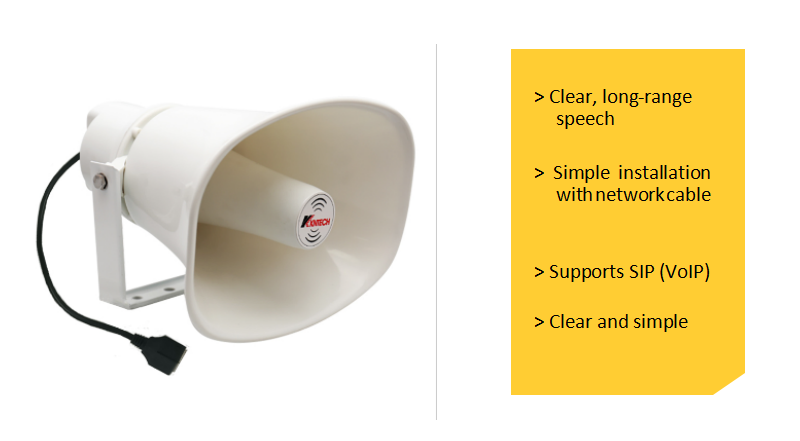 KNSIPSP-L4-15W Network SIP Speaker
KNSIPSP-L4-15W Network Horn Speaker is a simple-to-install outdoor loudspeaker that provides clear, long-range speech for remote speaking in video surveillance applications.
In live monitoring situations, KNSIPSP-L4-15W enables an operator to remotely address people and deter unwanted activity. The loudspeaker can also play a pre-recorded audio file when it is manually or automatically triggered in response to an alarm event.
KNSIPSP-L4-15W makes announcements possible from any- where with network connectivity. It easily integrates Voice over IP (VoIP) telephony systems that use SIP (Session Initiation Protocol).
The outdoor-ready KNSIPSP-L4-15W is easy to install. The loudspeaker has a built-in amplifier and supports over over Ethernet. It connects directly to an IP network with one network cable for communication. It is powered supply by POE. KNSIPSP-L4-15W enables a high sound pressure exceeding 109~125 dB. Being a standalone unit, KNSIPSP-L4-15W can be placed anywhere, enabling a flexible, scalable and cost-effective approach to system design.
The speaker comes with pre-recorded audio files and allows users to upload their own audio.