Product introduction:
1. Strong compatibility of the system extended,support standard SIP 2.0 (RFC3261) and related RFC agreement;
2. Support one bottom call the dispatcher station,host, specify the terminal;
3. Support digital keyboard;
4. Support three shortcuts keypad;
5. Provides alarm, monitor, intercom, broadcast function;
6. full-duplex talk functions;
7. Use advanced echo elimination technology;
8. Application: show Caller id, Contacts.
9. Speakers and microphone sensitivity adjustable;
10. Optional G. 729, G. 723, G. 711, G. 722, G. 726 and many ways of voice coding ;
11. System provides the recording and query the recording files at any time ;
12. Setting via a WEB interface;
13. Online software upgrade;
14. Support power 1 w;
Communication protocol

SIP 2.0(RFC-3261)

Chip

Broadcom1190

Keypad

Design

Stainless steel

Number

Full digital keypad, 3 shortcut (customizable),one hands-free button

Display

Screen

1 pcs

Voice

Hands-free microphone

1 pcs

Amplifier

3W

Speaker

3W

Onboard power amplifier bypass jump line

Support

Volume control

Adjustable

Full duplex hands-free

Support (AEC)

Head phone jack

Support

Handset jack

Support

Voice stream

Support protocol

RTP

C-Codec

G.729,G.723,G.711,G.722,G.726

Connection

Power supply

5V-15(+-15%)/1A DC or PoE

PoE( IPGB-1verion not support)

PoE 802.3af(Class1)48V

LAN

10/100BASE-TX s

Auto-MDIX, RJ-45

WAN

10/100BASE-TX s

Auto-MDIX, RJ-45

Recommend cable

Cat5e or higher

LCD

Support (optional)

RS232

Aluminum cover ,aluminum bottom case

Shell material

Working temperature

Zero to fifty-five degrees
Dimension: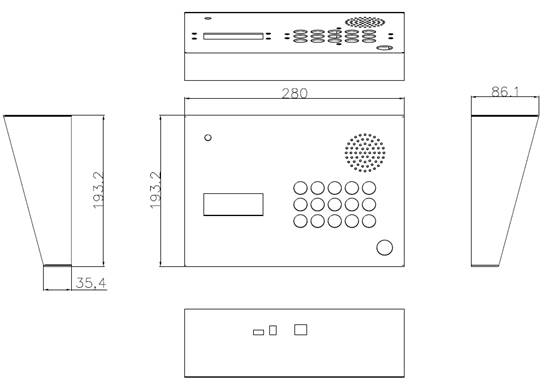 Autodial telephone, handset emergency telephone, handfree emergency telephone, handset free emergency telephone, Auto dial emergency phone, Metal emergncy telephone, sos telephone, help telephone, GSM telephone, help point, help phone, outdoor emergency telephone, Gaitronics, emergency call point, metal help telephone, camera phone, public telephone, loud speaking phone, bank service telephone, elevator phone, window intercome, LCD telephone, hotline phone, talk a phone, cleanroom telephone, weatherproof phone, SIP phone, voip phone, call point outdoor weatherproof phone, solar energy help phone, tunnel telephone, 2G, 3G telephone, track-side telephone, Vandal Resistant Telephone, sip phone, tunnel phone, metro phone, highway phone, sos phones, sip phones, weather proof telephones, emergency telephones, industrial telephones, VoIP phones, bank telephones, sip telephones,intercom.