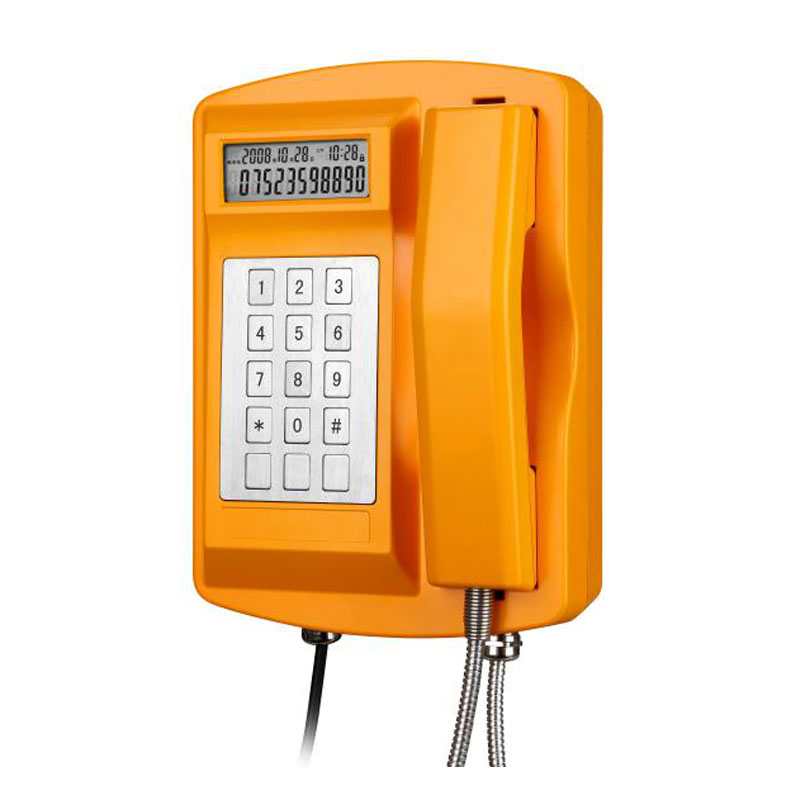 KNSP-18 Waterproof Telephone
DESCRIPTION ITEM
1. Robust aluminium alloy die-cast body, Vandal resistant and tamper-resistant hardware, simple installation.
2. Full keypad with memory, 10 button programmable, support free dial.
3. With external 30W loud speaker.Material:metal. Impeddance:8Ω.Freq.Resp:300-7000HZ. S.P.L:(1M/W):108dB. Megenet:ALum
4. With red flash Light. Work voltage: 12V DC/10W
5. Lightening protection to ITU-Trecommendation K.21.
6. Heavy Duty handset with hearingAid compatible receiver,Noise canceling microphone.
7. Handset with industrial strong curly cord .
8. Silicon keypad keep waterproof and dusty proof.
9. Door cover: orient automatically and good self - closing, convenient for use.
10.Temperature range from -40 degree to +70 degree.
11.Support echo cancellation.
12.Remote software upgrade, configuration and monitoring.
13. Optional 7 minute time out to release the line if the handset is left off hook.This function upon buyer's requirement).
14. Powder coated in UV stabilized polyester finish.
15.The housing covered with a layer of reflective label for easy identification at night.Optional 16. Application: Tunnel, metro, railway, LRT, speedway, marine, ship,offshore, mine, power plant, bridge etc.
INSTALLATION
CERTIFICATION
RCM: AS/NZS CISPR 32 Australian communications:AS/CA S004
Australian Equipment-safety: AS/NZS 60950.1:2015
EMC: EN50121(Railway application-Electromagnetic Compatibility)
PACKAGING

Unit size: 320 *205 *120mm N.W: 3.9KG
1pcs packing box size: 439 *277 *191mm Unit N.W: 3.9KG Unit G.W: 5.7KG
6pcs in 1 outer Carton box: size: 730*390*340mm N.W: 24KG G.W: 29.6KG
Autodial telephone, handset emergency telephone, handfree emergency telephone, handset free emergency telephone, Auto dial emergency phone, Metal emergncy telephone, sos telephone, help telephone, GSM telephone, help point, help phone, outdoor emergency telephone, Gaitronics, emergency call point, metal help telephone, camera phone, public telephone, loud speaking phone, bank service telephone, elevator phone, window intercome, LCD telephone, hotline phone, talk a phone, cleanroom telephone, weatherproof phone, SIP phone, voip phone, call point outdoor weatherproof phone, solar energy help phone, tunnel telephone, 2G, 3G telephone, trackside telephone, Vandal Resistant Telephone, sip phone, tunnel phone, metro phone, highway phone, sos phones, sip phones, weather proof telephones, emergency telephones, industrial telephones, VoIP phones, bank telephones, sip telephones,intercom.mines telephone