Order Number: SP0570012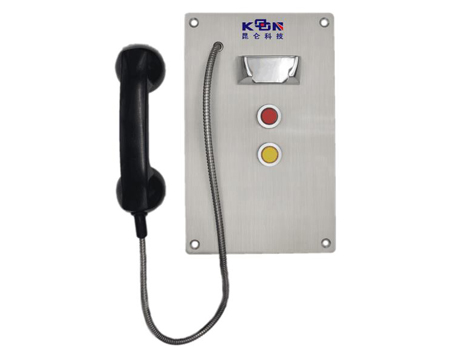 KNZD-57 Speed dial telephone
We are the manufacturer of Wireless emergency calling system security phone auto dail outdoor indoor phone handset keypad phone for dedicated emergency field
DESCRIPTION ITEM NO.SP0570012
1. Stainless steel 304 body for easy Installation.
2. Waterproof rating IP55 dust proof.
3. Support hot-line calling.
4. Weather resistant to IP55 standard, service temperature range from -30 degree to +75 degree.
5. Lightening protection to ITU-T recommendation K.21.
6. Heavy Duty handset with hearing Aid compatible receiver, Noise canceling microphone.
7. Handset with industrial strong armored cord .
8. Press the yellow button for the common telephone call, the red phone to emergency phone call.
9. Phone integrity wiring to enable the telephone system to check if the telephone unit is still
Operational.(If PABX have this available we can provide this function).
10. Optional 7 minute time out to release the line if the handset is left off hook. This function
upon buyer's requirement).
11. The housing covered with a layer of reflective label for easy identification at night.Optional