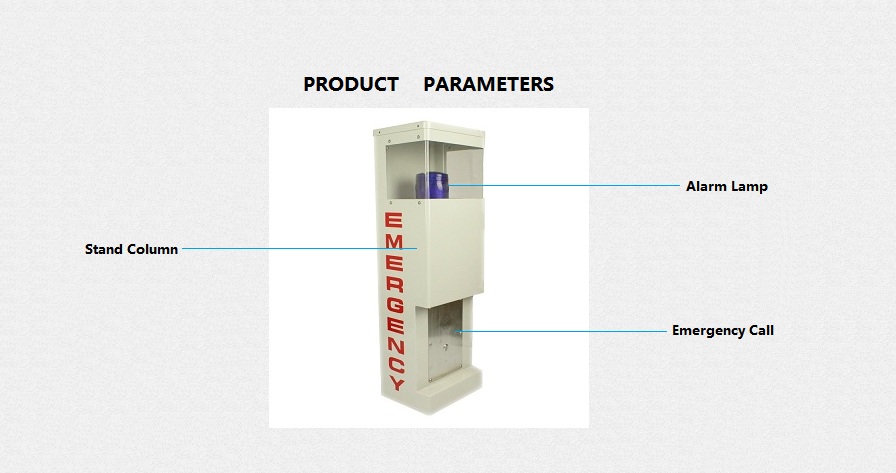 SOS telephone
KNEM-25
Lamp: DC12V
Panel: KNZD-09
Function: Incoming call and outgoing call lamp indicator
Small lamp is on at night and off during daytime

The telephone widely applied in the safety monitoring fields such as subway, rail, highways, tourist attractions, country forest park, etc. It is available with early warning and alarm function.
The integrated monitoring system is made up of point-to-point calls, surveillance camera and the control center. Once abnormal happens, the unit can call control center for help immediately, Control center can also call back directly.
Main characteristics
1. Cold rolled steel case ,SUS - 304 optional
2. All accessories including receiver, keyboard, intercom, circuit boards, shell all accessories are made of multi-level waterproof, dustproof structure. Waterproof IP – 66.
3. One button emergency call, with auto hang-up function.Incoming call indicator,conversation time limited
4. With good stability, strong anti-jamming capability, conform to the national standard (GB/T 15279-94, Its height of 2.7 meters makes it easy to be found in emergency situation in remote place or jungle.
5. The unit is handleability: press the emergency button, it will access the control center automatically.
The control center also can call back If there is an emergency situation and the unit will get through automatically. The alarm will flash when it rings.
Features
1.GSM/VOIP/PSTN optional.
2.Matell body.solid and temperature bearable.
3.Handset free.loudspeaker.
4.Heavy duty Vandal resistant buttons.
5.With or without keypad optional.
6.Lightning protection standard to ITU-T K21.
7.Waterproof grade about IP55.
8.Body with grounding connection protection.
9.Support hotline call,self stop if the other side hang up.
10.Built-in loud speaker,noise canceling microphone.
11.Lighting will flash when there is a incoming call.
12.AC 110V/220V powered or built-in rechargeable battery with solar powered panel optional.
13.The design is super thin and smart.Embed style and hanging style can be chosen.
14.Time out function optional.
15.Colours:RED+Stainless steel,If the qty over 100pcs can be To customer specification.
Standard and SMART Analogue and VoIP-SIP options available
DTMF (Dual Tone Multi Fre quency)
Matching with most PABX,PBX and PAX systems
Main PCB
1.Well treated PCB used inside the phone
2.Robust screw terminals used for the connection of ringer,handset,line in,hookswich.
3.Selectable 7 minute time out, to release the line if the handset is left off hook.
4.All connectors be greased in production.
VOIC OVER IP-SIP(Version)
Conection type: RJ45 Socket inside sealed enclosure
Power supply: Powered by POE(Please tell if you need external 24 V dc)
Call set-up Protocol: Session Initiation Protocol(SIP)
Configuration:DHCP or STATIC IP address provisioning
GSM version
GSM 2G/3G Solar Powerad with built-in rechargeable battery
1.Network Interface:GSM Frequency:850/900/1800/1900MHZ,2G,3G,WACDMA.
2.Ringing:Through internal Speaker/ringer.
3.Power Supply:Re-chargeable Battery powered;9V/14Ah.
4.Solar back-up:12V/30W.
5.Time out:selectable 0-20 minutes.
6.Built-in battery standby:21days,can improve to 42 days.
7.Built-in battery talking time:56 hours,can improve to 100 hours.
Certification:
EMC: EN50121 (Railway application- Electromagnetic Compatibility)
EN55022: emissions
EN55024: immunity
Ingress Protection: GB4208-93 IP66
FCC
ITU-T Recommendations K21
PACKAGING

Packing detail:
Unit size:300*180*125mm, N.W:3.3kg
1pcs in each inner CTN box,size:439*277*191mm G.W:4kg
4pcs in outer CTN box,size:566*445*420mm G.w:17.3kg
Autodial telephone, handset emergency telephone, handfree emergency telephone, handset free emergency telephone, Auto dial emergency phone, Metal emergncy telephone, sos telephone, help telephone, GSM telephone, help point, help phone, outdoor emergency telephone, Gaitronics, emergency call point, metal help telephone, camera phone, public telephone, loud speaking phone, bank service telephone, elevator phone, window intercome, LCD telephone, hotline phone, talk a phone, cleanroom telephone, weatherproof phone, SIP phone, voip phone, call point outdoor weatherproof phone, solar energy help phone, tunnel telephone, 2G, 3G telephone, track-side telephone, Vandal Resistant Telephone, sip phone, tunnel phone, metro phone, highway phone, sos phones, sip phones, weather proof telephones, emergency telephones, industrial telephones, VoIP phones, bank telephones, sip telephones,intercom.