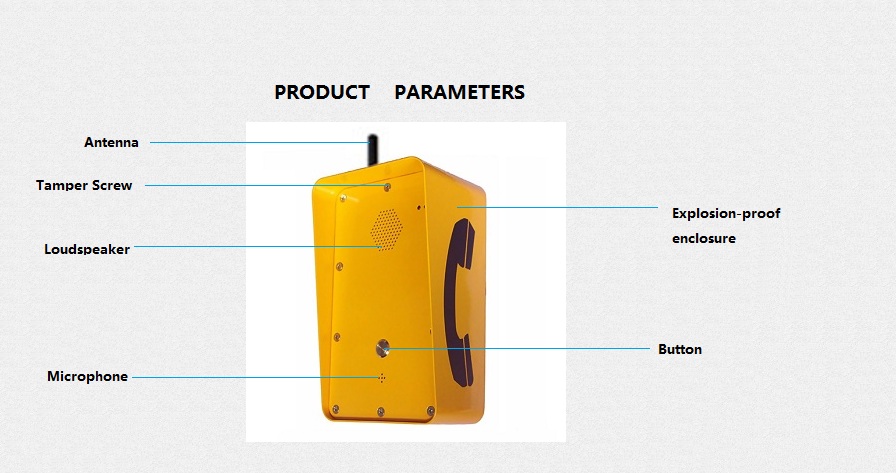 Highway call BOX
Highway call box for freeway made of matel. The weatherproof telephone is rugged and durable. Special sealing design can ensure complete waterproof grade up to IP66. weatherproof , dustproof and moisture-resistant. The Highway call box widely used in expressway and outdoor. Most expressway project need install IP66 telephone for emergency communication. Solar powered highway call box work as 911 call box for freeway assistance.
Features:
1.GSM/VOIP/PSTN optional.
2.Matell body.solid and temperature bearable.
3.Handset free.loudspeaker.
4.Heavy duty Vandal resistant buttons.
5.With or without keypad optional.
6.Lightning protection standard to ITU-T K21.
7.Waterproof grade about IP55.
8.Body with grounding connection protection.
9.Support hotline call,self stop if the other side hang up.
10.Built-in loud speaker,noise canceling microphone.
11.Lighting will flash when there is a incoming call.
12.AC 110V/220V powered or built-in rechargeable battery with solar powered panel optional.
13.The design is super thin and smart.Embed style and hanging style can be chosen.
14.Time out function optional.
15.Colours:RED+Stainless steel,If the qty over 100pcs can be To customer specification.
GSM 2G/3G Solar Powered with built-in rechargeable battery
1.Network Interface: GSM Frequency:850/900/1800/1900MHZ,2G,3G,WCDMA.
2.Ringing:Through internal Speaker/ringer.
3.Power Supply:Re-chargeable Battery powered:9V/14Ah.
5.Time out:selectable 0-20minutes.
Main PCB
1.Well treated PCB used inside the phone.
2.Robust screw terminals used for the connection of ringer,handset,line in,hookswitch.
3.Selectable 7 minute time out,to release the line if the handset is left off hook.
4.All connectors be greased in production.
VOIP OVER IP-SIP(Version)
Connection type:Rj45 Socket inside sealed enclosure
Power supply:External 5V dc
Call set-up Protocol:Session Initiation Protocol(SIP)
Configuration:DHCP or STATIC IP address provisioning

EMC:EN50121(Railway application-Electromafnetic Compatibility)
ITU-T Recommendations K21
Unit size:300*180*150mm, N.W:3.3kg
1pcs in each inner CTN box,
Box size: 439 x 277 x 191mm G.W: 4kg
4pcs in outer CTN box, size: 566 x 445 x420 mm G.W: 17.3kg
You May Like: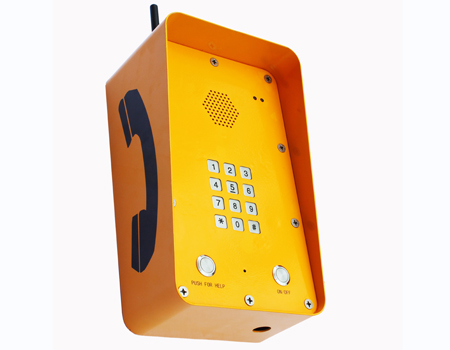 KNZD-09A
SOS Telephone GSM outdoor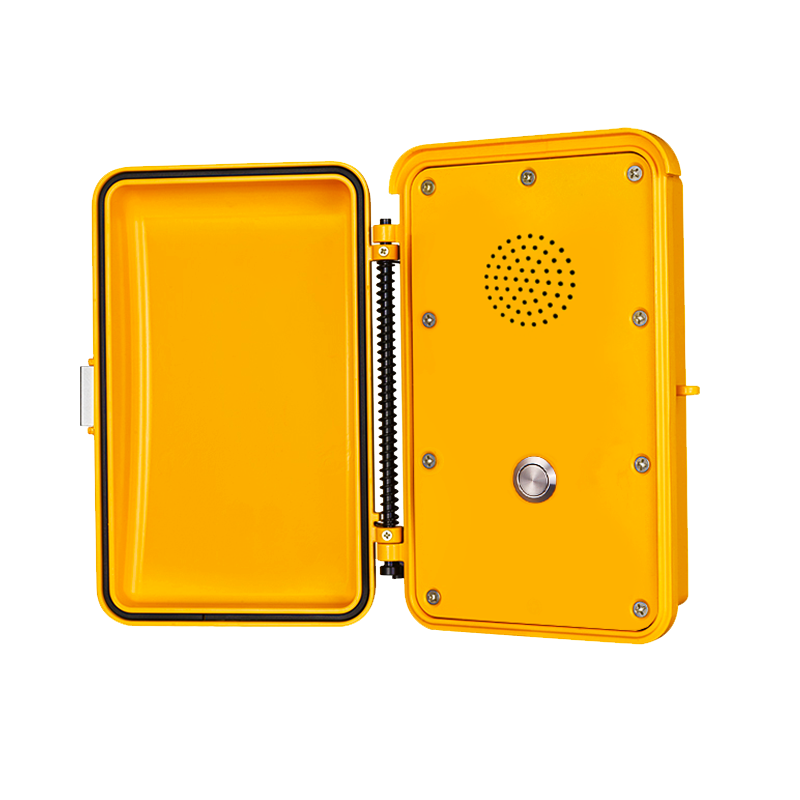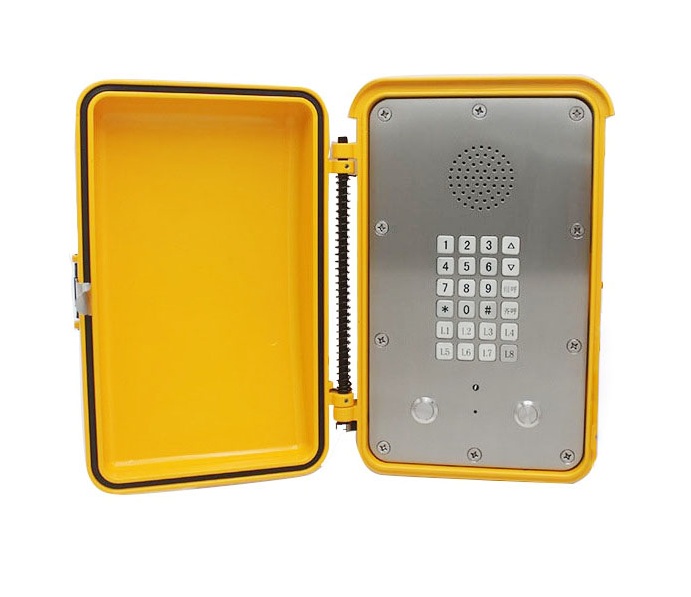 KNSP-15MT
Rugged telephone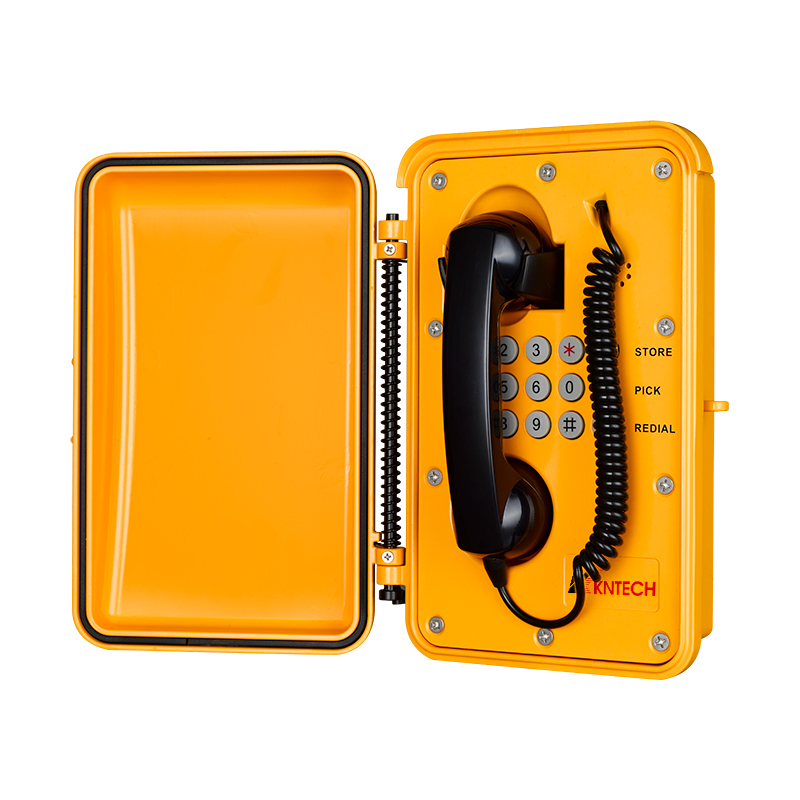 KNSP-01
Weatherproof telephone
TECHNICAL SPECIGICATION
1.Network Interface:GSM Frequency:850/900/1800/1900MHz.
2.Ringing:Through internal Speaker/ringer
3.Power Supply:Re-chargeable Battery powered:9V/14Ah,Solar back-up:12V/30W.
4.Time out: selectable 0-20 minutes
5.Temperature:-20°to +60°C emp.
6.Relative Humidity:up to 90%
7.Built-in battery Standby:21 days.
8.Built-in battery talking time:21 hours.