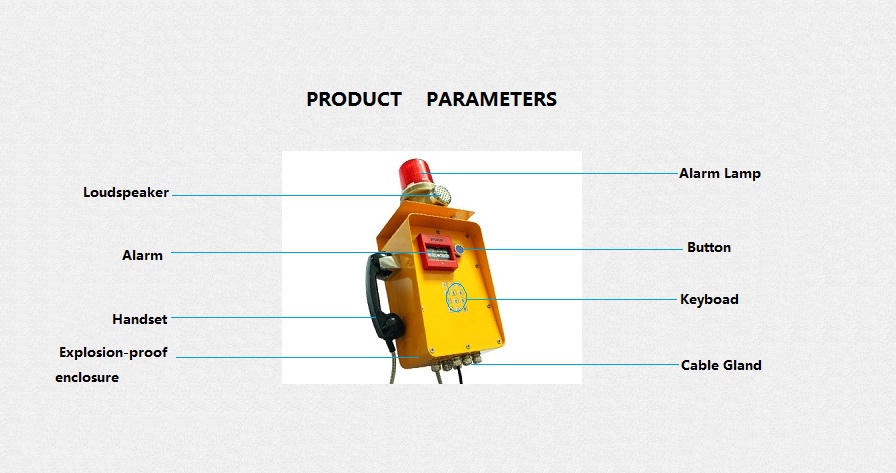 KNZD-46 Fire alert telephone
We specializing in the production and sales of emergency telephone with sos warning light Vandal resistant Heavy Duty Industrial Telephones for rolling plant.As a professional Fire alert telephone factory, we provide different kind of Fire alert telephone and export to 130 countries. The Most Professional Fire alert telephone Manufacture in Asia! The Fire telephone will be designed to work on railway, metro, tunnel…The Weatherproof phone will be designed to work on Railway, metro, tunnel,etc. Housed in robust aluminium die case with spring loaded door, it will offer protection against the outdoor environment,vandals resistance and rot resistance.
Telephone Features:
Matching with most PABX, PBX and PAX systems

1. Metal body with SUS keypad, solid and temperature bearable
2. Handset with armored cord
3. Hearing Aid compatible receiver, noise canceling microphone
4. Lightening protection to ITU-T recommendation K.21
5. Waterproof grade is IP65
6. The metal shell is provided with grounding connection device and is absolutely insulated with inner circuit and electric, then has the effect of electromagnetism shield.
7. Can realize ring off automatically if the other side close.
8. Totally adopt SMTC craftwork keep very good quality.
Fire Alarm Feature
1. Break Fire Box, the siren flash and sound
2. Press blue button to mute siren sound during telephone conversation
3. Press blue button again, the siren will continue sounding
4. Built-in addressable module and control module, making control room personnel can remote control the fire alarm system by control panel.
5. The siren sound greater than 120dB