KNEX1 Explosion proof telephones
Explosion proof telephones work as atex equipment made of GRP by die casting. The atex explosion proof telephone is rugged and durable. KNTECH design and manufacture the telephone with IECEX tertification and export to 50 countries. This Explosion proof telephone works in Hazardous Area. The explosion proof telephone use in zone 1 and zone 2. It can also use in Division 2.Ex II 2 GD & Ex ii 2G ATEX Certified telephone, atex telephone basis on atex zone include atex zone 2 and atex zone 1 also atex zone 22.
Features:
IECEx certified
Zone 2, type Ex e ib mb I IC T6 Gb.
Analogue telephone matching with most PABX, PBX and PAX system
Telephone line powered. No external power or battery required
Robust SMC 2600 glassfibre reinforced polyester die-cast body
LCD display, SUS Metal keypad 24digit, Magnetic reed hook-switch
Busy tone detection for auto release the line if line busy
High temperature approval, Auto answer auto release line.
Full Soft lock: only dial out from phone book 50 memory address number
Half soft lock: limit to dial out starting number, e.g. "00852" area code
Ring sound 95 dB dfd in 1 m and 10 ringing tone melodies selectable
Listening by loudspeaker: 70dB in 1m
Phone book memory: 50 address ( name & number) programmable
Dry contact for external control automation (Option)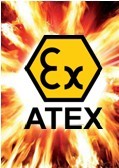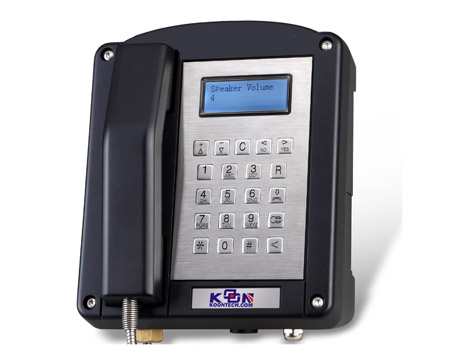 LCD display include
Manu setting
Welcome text programmable e.g: welcome to koontech telephone
Full soft lock or half soft lock
Phone book up to 50 address number selectable
Ring speaker up to 4 level selectable
Hands free talking sound up to 4 level selectable
Handset receiver sound up to 4 level selectable
Up to 9 Ring tone melodies selectable
Back light up to 4 level selectable
The dialing number
Calling time counting
Autodial telephone, handset emergency telephone, handfree emergency telephone, handset free emergency telephone, Auto dial emergency phone, Metal emergncy telephone, sos telephone, help telephone, GSM telephone, help point, help phone, outdoor emergency telephone, Gaitronics, emergency call point, metal help telephone, camera phone, public telephone, loud speaking phone, bank service telephone, elevator phone, window intercome, LCD telephone, hotline phone, talk a phone, cleanroom telephone, weatherproof phone, SIP phone, voip phone, call point outdoor weatherproof phone, solar energy help phone, tunnel telephone, 2G, 3G telephone,
track-side
telephone, Vandal Resistant Telephone, sip phone, tunnel phone, metro phone, highway phone, sos phones, sip phones, weather proof telephones, emergency telephones, industrial telephones, VoIP phones, bank telephones, sip telephones,intercom.