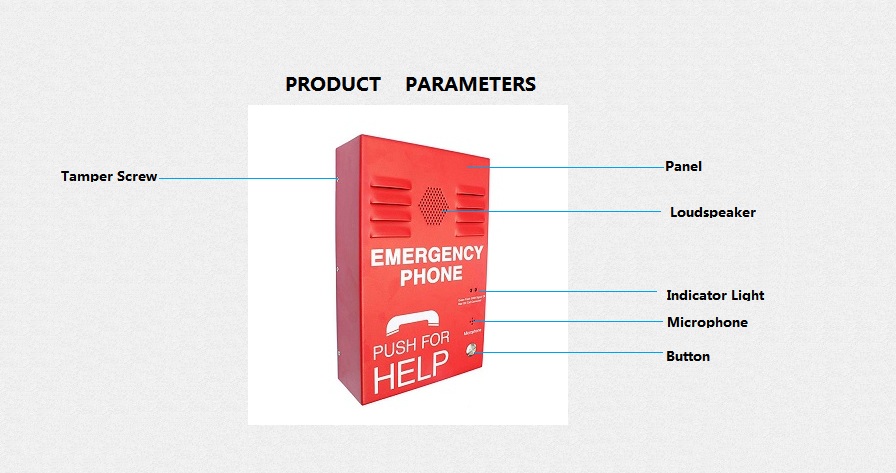 KNZD-38 Emergency call box
We are the manufacturer of One button for emergency intercom stainless weatherproof phone fire protection telephone for oil field construction SMS for trouble report GSM version.
Main Features:
1. Analogue/ IP SIP POE/ GSM Telephone
2. Metal body stainless steel 304 or 316 or CRS Cold-Roll Steel.
3. Identifying the push button can be customized in English or other language.
4. The phone affixed to the mount using 4 stainless steel tamper proof screws.
5. Push to talk, One button with memory for speed-dial call. Easy programmable. (we can also make the keypad built-in phone case for hidden).
6. LED indicators for incoming call optional
7. Wearable, waterproof, moisture proof, Vandal resistant and tamper-resistant hardware
8. Lightening protection to ITU-T K.21
9. Automatically release the line when the other far end hang up first.
10. Selectable 7 minute time out
11. Patch cable is industry standard CAT 3 telephone cable patch cable equipped with RJ11 connector.
12. Dry contact ready if customer need this for CCTV optional
13. Self healthy checking and trouble reporting automatically
14. Auto answer and auto stop
15. Induction loop ready for optional need 12V AC feeding.
CERTIFICATION

EMC: EN50121 (Railway application- Electromagnetic Compatibility)
Ingress Protection: GB4208-93 IP67
ITU-T Recommendations K21

1pcs in each inner CTN box,
size: 43.3 x 27.6 x 19.1 G.W: 4kg
4pcs in outer CTN box, size: 56.6 x 44.5 x42 G.W: 20.25kg
20GP: 3000PCS, 40GP: 6000PCS, 40HQ: 7000PCS
Specification:
Main technical indexes:
1、 Applicable for various types of SPC exchange and dispatching exchange system with feeding voltage of 48-69V. or DC or Solar powered.
2、 Operating temperature:-30℃~ +70℃ Relative humidity:10%~95% Atmospheric pressure: 86~106Kpa Circumstance noise:≤ 60dB(A) The ERT assembly housing weather proof with an IP rating of IP55
3、 Sound level of ringing:≥70dB(A).~90dB
4、 Standard frequency:low frequency group:697、770、852、941Hz, high frequency group:1209、1336、1477Hz, frequency deviation:≤±1.5% If service line is a 3Km signal-level: Standard frequency:low frequency group:-9dB±3dB,high frequency group:-7dB±3dB,level difference between low and high frequency of compound signal:2±1dB,the total distortion caused by intermodulation of harmonic wave is lower than the basic level by at least 20dB. 5、 Call transmission index:(5KM)SLR≤12,RLR≤-1,STMR≥10, output impedance is 600Ω. 6、 Super strong function is available for dialing 12 groups of numbers stored in the memory (maximum length of each number is16 digits)
Specification for GSM version
Main technical indexes:
1. Network Interface: 2G or 3G, GSM Frequency :850/900/1800/1900MHZ
2. Ringing: Through internal Speaker/ringer
3. Power Supply: ※Re-chargeable Battery powered: 9V/14Ah, Solar back-up: 12V/30W ※AC ADAPTOR: Input: 240V/110V output: 9V/14Ah
4. Time out: selectable 0-20 minutes
5. Temperature: -20℃~ +60℃emp
6. Relative Humidity: up to 90%
7. Built-in battery Standby: 21days
8. Built-in battery talking time: 21 hours

Autodial telephone, handset emergency telephone, handfree emergency telephone, handset free emergency telephone, Auto dial emergency phone, Metal emergncy telephone, sos telephone, help telephone, GSM telephone, help point, help phone, outdoor emergency telephone, Gaitronics, emergency call point, metal help telephone, camera phone, public telephone, loud speaking phone, bank service telephone, elevator phone, window intercome, LCD telephone, hotline phone, talk a phone, cleanroom telephone, weatherproof phone, SIP phone, voip phone, call point outdoor weatherproof phone, solar energy help phone, tunnel telephone, 2G, 3G telephone, track-side telephone, Vandal Resistant Telephone, sip phone, tunnel phone, metro phone, highway phone, sos phones, sip phones, weather proof telephones, emergency telephones, industrial telephones, VoIP phones, bank telephones, sip telephones,intercom.