KNZD-07A public telephone
We can provide elevator parts Telephone Emergency Phone SOS device security telephone with speed dial buttons optional for the ship cockpit.
As in the highway of highway roadside emergency telephones, waterproof telephone for the coal mine explosion-proof telephone used in coal mines, oil Wells, used in tourism scenic tourists such as telephones are belongs to the category of the public emergency telephone. The main function of the Public analogue telephone is that, when the accident occurs, the telephone which can be used and must be able to be used for emergency call for help has completely different requirements for its work according to different use environment.
DESCRIPTION ITEM
1. Shell: stainless steel material with high strength and elasticity, wide high impact strength, wide service temperature.
2. Hook: stainless steel, using magnetic induction hang up, don't need hook switch, no contact gaps.
3. Buttons: metal buttons, abrasion-proof and anti aging. (Can be customized back lit keyboard)
4. Display: This model is IP version supports Caller ID or IP address of the display. (Can be customized according to standard GSM CDMA, etc.)
5. Handset: special ABS, / PC synthesis, integrated structure, good sealing, resistance to knock ,twisted pull no deformation, doesn't burst at -35 centigrade.
6. Wire: using Teflon wire, acid and alkali resistance, high temperature, anti-aging, do not catch fire.
7. Waterproof glue : imported waterproof glue, high viscosity, high temperature resistance, high pressure, waterproof life more than 10 years.
8. Transmitter and receiver of handset ,keyboard, buzzer,circuit board ,shell , all accessories use multi-layer waterproof and dust-proof structure. It has three-level waterproof, dust proof functions, the whole rating reach to IP66.
9. Telephone is very stability, strong anti-jamming capability, In line with the national standard GB / T 15279-94.
INSTALLATION
CERTIFICATION
EN55022: emissions EN55024: immunity
Ingress Protection: GB4208-93 IP66 FCC ITU-T Recommendations K21
EMC: EN50121(Railway application-Electromagnetic Compatibility)
PACKAGING

Unit size:280 x 192 x 42mm Unit: N.W:2.5KG
1pcs packing box size: 300 *200 *80mm Unit N.W:2.5KG Unit G.W:3.21KG
2pcs in 1 outer Carton box: size: 350*240*190mM N.W:5.0KG G.W:6.8KG
You May Like: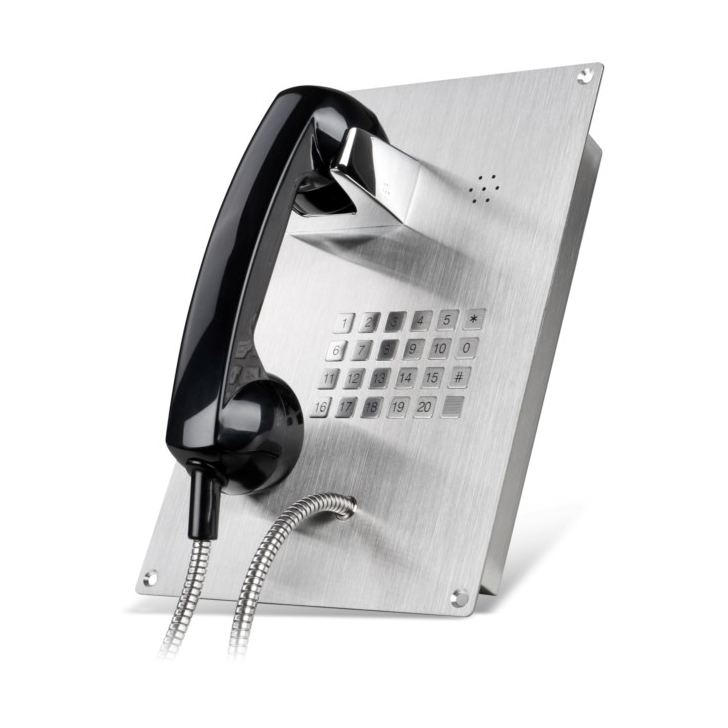 KNZD-07C
Public telephone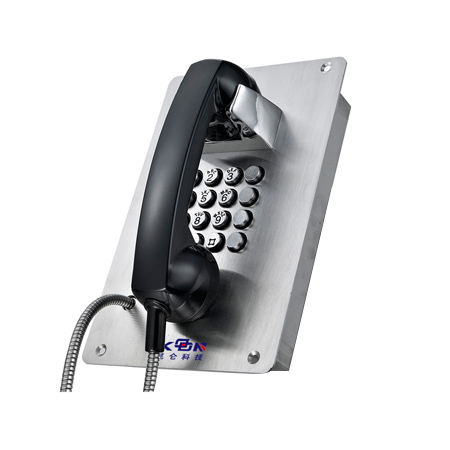 KNZD-07-B
Public Telephone For Bank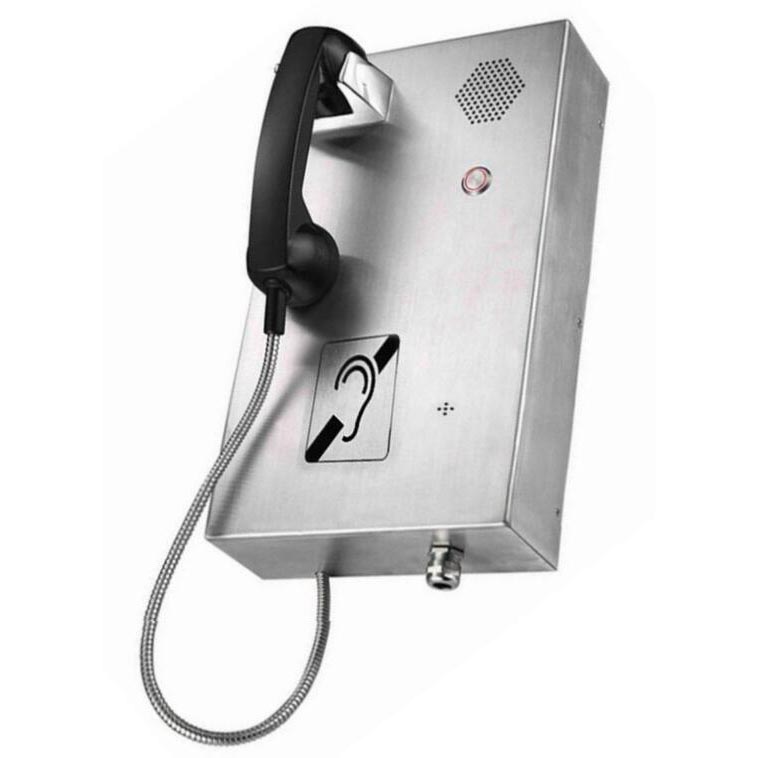 KNZD-35
Loudspeaker telephone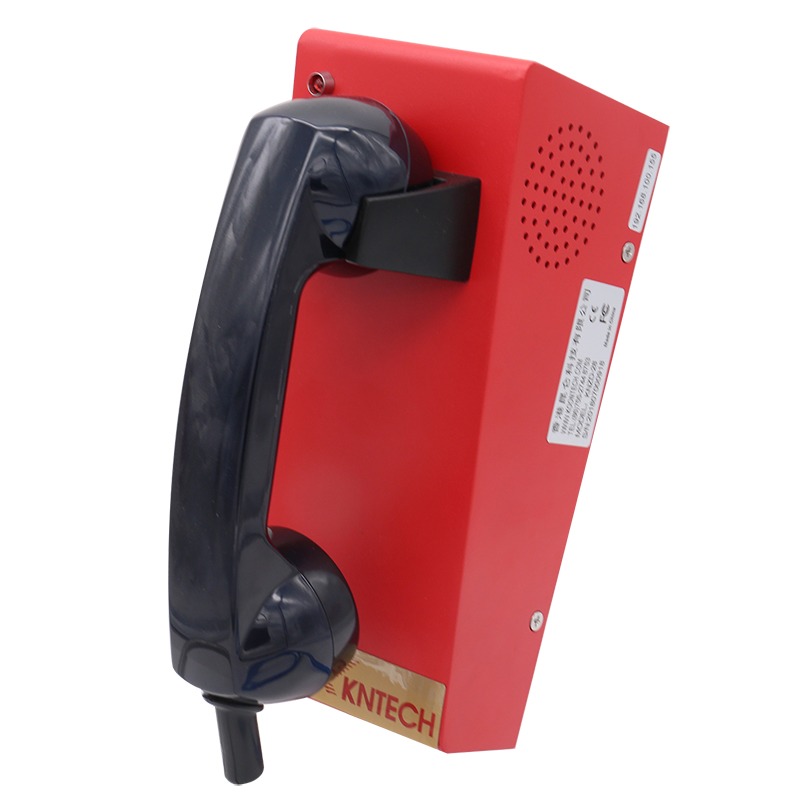 KNZD-28
Industrial Desktop telephone
SPECIFICATION - Analogue(Model NO.ZD07A0012)

1. PSTN analogue telephone 2. DTMF dialing
3. MTBF:100000hours 4. MTTR: 2 hours
5. Connection: RJ11 screw terminal pair cable 6. Sound level of ringing:over 70dB(A).
7. Call transmission index:(5KM)SLR<12,RLR<-1,stmr>10, output impedance is 600 Ohm.maximum distance: 7KM
8. Applicable for various types of SPC exchange PABX and dispatching exchange system with feeding voltage of 33-60V.
9. Connection: RJ11 screw terminal pair cable (or RJ11 Socket of plug upon request),with stainless steel cable protected
10. Super strong function is available for dialing 12 groups of numbers stored in the memory,(maximum length of each number is 16 digits)
11. Standard frequency:low frequency group:697. 770. 852. 941Hz,high frequency group:1209. 1336. 1477Hz, frequency deviation:-1.5% ~ +1.5%
12. Ambient temperature:-30 ~ +60 degree. Relative humidity:10%~95% Atmospheric pressure: 86~106Kpa Circumstance noise:less than 60dB(A)
SPECIFICATION - VoIP(Model NO.ZD07A0022)
1. VoIP SIP2.0 telephone 2. DTMF dialing
3. MTBF100000hours 4. MTTR: 2 hours
5. Auxiliary Contacts:1 Aux Output, dry contact 6. Rated load:0.3 A at 125 VAC; 1 A at 30 VDC
7. Contact Ratings. Load: Resistive load 8. Echo cancellation code:G.167/G.168
9. Rated carry current:1A 10. Max.switching current:1A
11. Max.switching voltage:125 VAC,60VDC 12. Audio Codes:G.711, G.722, G.729
13. IP Protocols:IPv4, TCP, UDP, TFTP, RTP, RTCP, DHCP, SIP
14. Free dial (maximum length of each number is 16 digits)
15. Communication: Full duplex 2-way hands-free communication
16. Call Control Signaling:VOIP SIP Info(DTMF), RFC 2833(DTMF)
17. Network:10/100 BaseTX Ethernet, RJ45 connectors, Cat5e or better
18. Power:Power over Ethernet, IEEE802.3af, Class 0 Local power, 12VDc,Idle 2W, Max 10W
19. Programming:Non-volatile flash memory programming and configuration through Web GUI
20. Management and Operation:DHCP and static IP, remote automatic software upgrade, centralized monitoring, status LED
21. LAN Protocols:Power over Ethernet(PoE,802.3af), WLAN(IEEE 802.3af), Network Access Control(IEEE 802.1x),STP(IEEE 802.1d), RSTP(IEEE 802.1d-2004)