Video door intercom KNZD-70W
Video door intercom using video door SUS316 stainless steel shell, appearance using electrophoresis process, luster and bright, corrosion resistant effect is good. Video door intercom using wall-mounted installation, after installation stability, not easy to move. The hd camera, world-class phone motherboard, absolutely guarantee the quality of the call.
1.VOIP Telephone BI-Directional

Video telephone

Scratch resistant, HD Screen
2.SIP supports 5 SIP servers SIP 2.0 Support TR069
3.7" digital TFT-LCD of 1024 x 600 pixels with Visual angle adjustable display screen
4.sensor camera with 5Mega pixels 2xLAN, PoE, USB
5.TWO group of speed dial for emergency call. Protection: About IP65
6.Speaker: 8 ohm 1.5W, loudness 85dB(A) to 65dB(A) MIC's working distance 80cm
7.Ring: >95dB. Coverage 1.5m radius
8.The call button is flash when ring, lighting during a call, off when standby.
9.With induction loop coverage 1M radius. Metal body
10Braille words for disable.
11.HD voice with high quality headset/HD voice in speakerphone mode
1.Array size::2592 x 1944 2.Lens size: 1/4"
3.Lens chief ray angle: 24 4.Input clock frequency: 6~27 MHz
5.Maximum Image transfer rate: 6.QSXGA (2592 X 1944): 15fps
7.720P 8.Sensitivity: 600 mV/lux-sec
9.Shutter: rolling shutter/frame exposure 10.Maximum exposure interval: 1964 xTROW
11.Pixel size: 1.4 um X 1.4 um 12.Dark Current: 8 mV/s @ 60℃ junction temperature
13.Image area:3673.6 um X 2738.4 um 14.viewing angle: 187°
EN55022: emissions EN55024: immunity
Ingress Protection: GB4208-93 IP66 FCC
ITU-T Recommendations K21
EMC: EN50121(Railway application-Electromagnetic Compatibility)
PACKAGING
Unit size:430*260*70mm Unit: N.W:4.25kg
You May Like: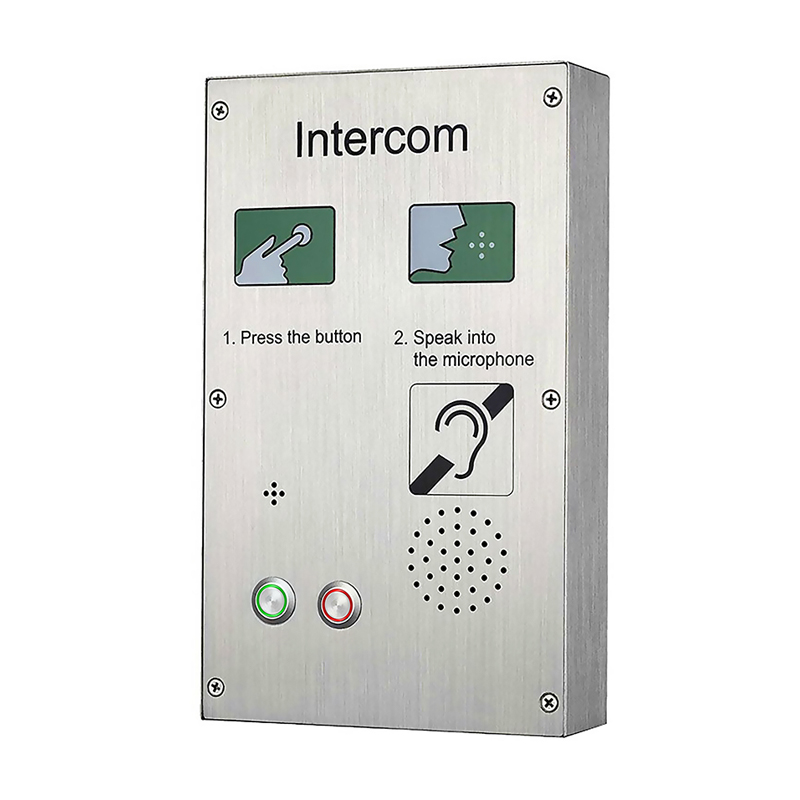 KNZD-30-2IPIL
Emergency Intercom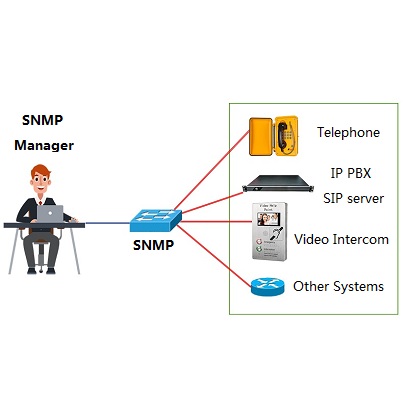 NMS-X1 SNMP
Unified network management system
KNZD-16
Help Point Intercom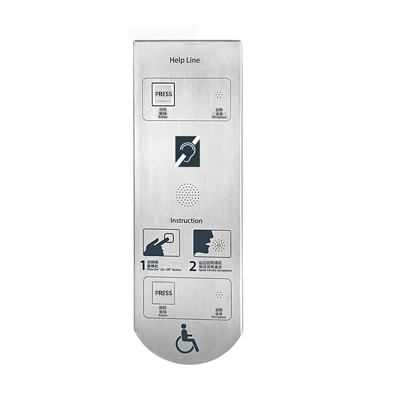 KNZD-17
Emergency help point
SPECIFICATION
VoIP SIP2.0 telephone DTMF dialing
MTBF:100000hours MTTR: 2 hours
Hotline (maximum length of each number is 16 digits)
Communication: Full duplex 2-way hands-free communication
Call Control Signaling:VOIP SIP Info(DTMF), RFC 2833(DTMF)
Power:Power over Ethernet, IEEE802.3af, Class 0 Local power, 12VDC,Idle 2W, Max 10W
Auxiliary Contacts:1 Aux Output, dry contact
Contact Ratings. Load: Resistive load
Rated load:0.3 A at 125 VAC; 1 A at 30 VDC
Rated carry current:1A
Max.switching voltage:125 VAC,60VDC
Max.switching current:1A
Audio Codes:G.711, G.722, G.729
Network:10/100 BaseTX Ethernet, RJ45 connectors, Cat5e or better
IP Protocols:IPv4, TCP, UDP, TFTP, RTP, RTCP, DHCP, SIP
LAN Protocols:Power over Ethernet(PoE,802.3af), WLAN(IEEE 802.3af), Network Access Control(IEEE 802.1x),STP(IEEE 802.1d), RSTP(IEEE 802.1d-2004)
Programming:Non-volatile flash memory programming and configuration through Web GUI
Management and Operation:DHCP and static IP, remote automatic software upgrade, centralized monitoring, status LED
Echo cancellation code:G.167/G.168