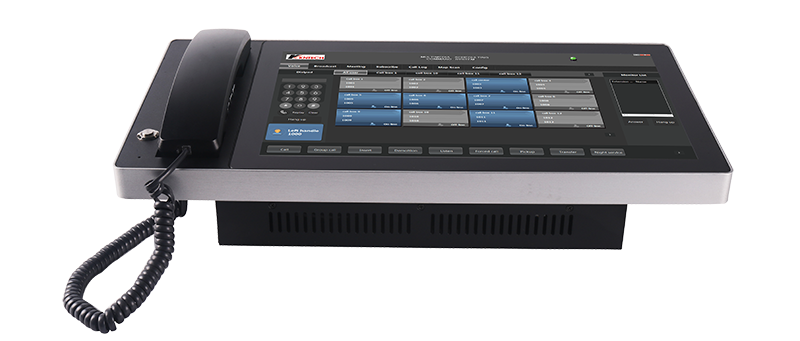 KNDDT-2-A15 operator console center
We are the manufacturer of the operator control center, which is sold all over the world and is used in various engineering fields such as subway, tunnel, bus, railway, large factory.KNDDT-2-A15, often used in the station control console, brings great convenience for staff communication within the station.
Displays all incoming calls and monitors incoming call status, with queue support up to 16.
Support automatic storage of voice communication data, automatic upload FTP server.
Automatically create storage folders on the server based on time and id number.
(1)Dispatching stations and dispatching extensions can achieve priority or non blocking calls.
(2) The dispatcher can call or respond to a certain invoked user by pressing the button or off-line, and can also call or respond to multiple invoked users at the same time.
(3) dispatchers can interception, interception or strong insertion to achieve the intervention of the users' call status. If necessary, it can be directly linked up or even forced to plug in its ongoing call.
(4) The dispatcher can call the callee by means of an emergency call with a long ring of 4:l (ringing: stop ringing).
(5) The dispatcher can make group calls according to the pre-set group users, press the group call key to call out all the users of the group at one time, and realize the communication to multiple callee users. Some dispatcher can carry out all calls, that is, to call out all the users at once.
(6) dispatchers can convene large and small conference calls. The dispatcher can set up and edit several meeting groups and their attending members in advance, call out all the attending members at one time according to the meeting group number, and also can hold a large-scale meeting of all the called users. The dispatcher may temporarily designate a callee to join/exit the meeting during the meeting, and may designate one (or more) callee to speak during the meeting.
(7) For dispatchers with automatic switching functions, dispatchers can set or modify user elastic numbers, user service levels, determine the status of through, switching, access relay and other users, and set up hotlines and other functions.
(8) A dispatching desk can be configured with two seats according to actual needs, and each seat is equipped with a dispatching telephone handset for the use of two dispatchers. The dispatching station has the same function for two dispatchers, and can operate independently by two dispatching stations weight keys.
(9) The dispatcher may carry out relay dispatching, relay convergence (multi-bureau directional time), limit-stop relay and relay reservation and other related dispatching communication matters. When dispatching multiple unit networks, relay interfaces can be used to connect other dispatcher's relay or user interfaces.
(10) The dispatcher is equipped with a dispatch desk interface (e.g. 2B+D interface) to connect to a dispatch desk with an operating keyboard; the dispatcher can also be equipped with a computer interface (e.g. USB interface) to connect to a PC (soft dispatch desk) equipped with a dispatch desk software, and traditional or multimedia dispatch can be achieved by means of a mouse or touch screen.
+ 15.6 inch capacitive screen dispatching station
+ The operator is able to put the caller on hold and attend to another incoming call
+ If the maximum number of incoming calls is being diaplayed and another incoming call has been initiated, it shall cause a message to flash,on the corresponding display of the relevant console to indicate that calls are waiting.
+ If all operator consoles are engaged,a voice message which informs the caller that his call will be attended to shortly shall be automatically played.
+ Incoming calls cause all or designated logged-in operator consoles to ring based on the accepted call handling design.It is able to allow operators to designate logged-in operator consoles by geographical locations.
+ Operator console allows operators to retrieve Emergency Call System calls which are put on hold, even if that call has been placed on hold by another operator.