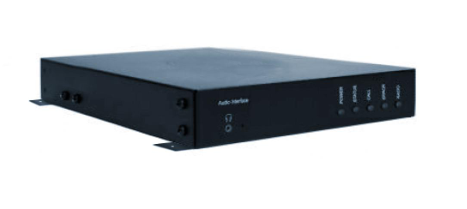 Industrial Personal Computer PLC
DESCRIPTION
PA Interface over IP
Remote AlphaCom RS232 port over IP
Integrated 2-port Ethernet switch
The AlphaCom IP Audio Remote I/O unit (IP-ARIO) is designed with a wide set of hardware functions, and can be used as a PA Interface, a Radio Interface or as a pure IP-based Remote I/O Unit.
As a PA interface, the IP-ARIO unit provides an audio and signalling interface between PA amplifiers and the AlphaCom server/exchange. The IP-ARIO unit features two parallel PA audio outputs, enabling the connection of two PA amplifiers. It will provide speaker loop monitoring inputs for each amplifier, as well as additional inputs for the monitoring of PA amplifiers and/or other system components.
As a radio interface, the IP-ARIO unit provides audio and signalling. The unit has a headset connection for listening in on conversations. It features audio in/out, 12V radio "On" signalling as well as a remote AlphaCom RS232 port for signalling.
The IP-ARIO unit has an integrated managed data switch providing advanced networking and security features. This enables you to deliver instant, efficient, and secure voice and data services in an IP environment.
To provide maximum availability, the IP-ARIO unit comes with advanced supervision functions. The line test will detect if there are any faults in the network or in the IP-ARIO electronics. The status is shown on LED indicators as well as reported to AlphaWeb or to 3rd party management systems using SNMP, Syslog, and OPC.