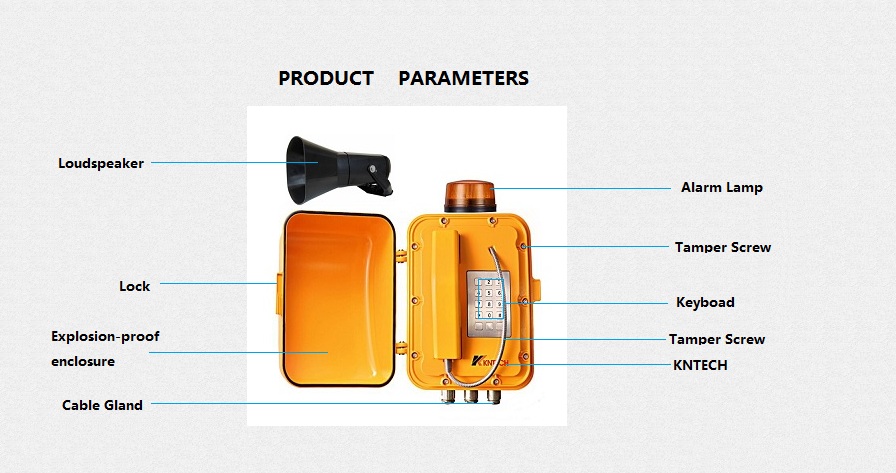 Analogue Explosion proof telephone with loudspeaker
KNEX1 Explosion proof telephones
Explosion proof telephones work as atex equipment made of GRP by die casting. The atex explosion proof telephone is rugged and durable. KNTECH design and manufacture the telephone with IECEX tertification and export to 50 countries. This Explosion proof telephone works in Hazardous Area. The explosion proof telephone use in zone 1 and zone 2. It can also use in Division 2.Ex II 2 GD & Ex ii 2G ATEX Certified telephone, atex telephone basis on atex zone include atex zone 2 and atex zone 1 also atex zone 22.
1.Robust aluminium alloy die-cast body, Vandal & tamper-resistant hardware
2. Waterproof rating IP66 dust proof.
3. Full keypad with memory, 10 button programmable telephone, support free dial.
4. Magnetic reed hook-switch.
5. Heavy Duty handset with hearing Aid compatible receiver, Noise canceling microphone.
6. Handset with industrial strong curly cord .
7. Stainless Steel keypad keep waterproof and dusty proof.
8. Door cover: orient automatically and good self - closing, convenient for use.
9. Temperature range from -40 degree to +70 degree.
10. The housing covered with a layer of reflective label for easy identification at night.
11. Powder coated in UV stabilized polyester finish.
12. Application: Hazardous dust and gas atmospheres, petrochemical industry,Tunnel, metro, railway, LRT, speedway, marine, ship,offshore, mine, power plant, bridge etc.
Specification
Types of protection: II 2G Ex db ib IIB T4 Gb -40℃ to 60℃
DTMF dialling MTBF:100000hours
With built-in amplifier and with external speaker 15-30W
With flash light
Power supply:Telephone line
Auxiliary Contacts:1 Aux Output, dry contact
Contact Ratings. Load: Resistive load
Rated load:0.3 A at 125 VAC; 1 A at 30 VDC
Rated carry current:1A
Max.switching voltage:125 VAC,60VDC
Max.switching current:1A
Sound level of ringing:over 120dB(A).
speed dialling keypad:Super strong function is available for dialling 12 groups of numbers stored in the memory
Housing: construction robust aluminium alley die-cast body
Unit size: 278X349X161MM
Weight: 8kg
Environment conditions:
Ambient temperature: -40℃ to 70℃. Relative humidity:10%~95%
Atmospheric pressure: 86~106Kpa Circumstance noise:less than 60dB(A)
Degree of protection: IP66 according to EN60529
Impact protection: IK 09 according to EN50102