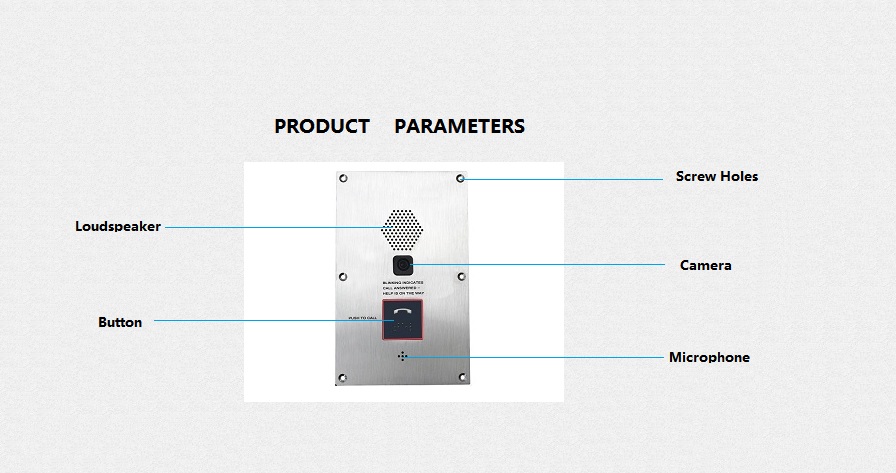 KNSD-103 video lift phone
We are the manufacturer of 4 group of memory Sequence dial elevator telephone for power distribution station Nuclear power plant
Features:
1. Analogue phone, hand free telephone, push for help
2. Metal body stainless steel 304 ( we can make stainless steel 316 as optional).
3.
Built-in 4 group of memory
, sequence dial, if the first number doesn't answer dial to the next number
4. Auto answer and auto stop if the other side stopped
5. Remote or local modify speed dial telephone number
6. Built-in message record can be programmable, auto report location
7. LED indicator for dialing or answered to make sure seek help message received
8. Time out function to avoid line engaged
9. Handset free, with built-in loud speaker
10. Waterproof grade in IP55 11. Lighting protection to ITU-T K.21
12. The metal shell is provided with grounding
13. Mounting with stainless steel tamper proof screws against shief
14. Dry contact ready if customer need this for CCTV
15. With built-in camera (optional)
16. With external loud speaker (15w) for broadcast (optional)
17. Dry contact for External Camera (optional)
Telephone installation

EMC: EN50121 (Railway application- Electromagnetic Compatibility)
Ingress Protection: GB4208-93 IP66
ITU-T Recommendations K21
Machine size:337 *254 *54( mm )
Carton size:439 *277 *191( mm )
Packaging material: pearl cotton, carton
Main technical indexes:
1、 Applicable for various types of SPC exchange and dispatching exchange system with feeding voltage of 48-69V. Work with Pair cable.
2. Basis on PBX analogue telephone
3、 Operating temperature:-10℃~ +55℃ Relative humidity:10%~95%
Atmospheric pressure: 86~106Kpa Circumstance noise:≤ 60dB(A)
The ERT assembly housing weather proof with an IP rating of IP55
4、 Sound level of ringing:≥70dB(A).
5、
Power supply:
DC 9-24V @200mA power supply or 9V DC battery or 8.4V Ni MH Battery
7. Responses frequency : 550Hz-3400Hz, +/- 3db
8. Operate loop impedance: 600 ohms
Autodial telephone, handset emergency telephone, handfree emergency telephone, handset free emergency telephone, Auto dial emergency phone, Metal emergncy telephone, sos telephone, help telephone, GSM telephone, help point, help phone, outdoor emergency telephone, Gaitronics, emergency call point, metal help telephone, camera phone, public telephone, loud speaking phone, bank service telephone, elevator phone, window intercome, LCD telephone, hotline phone, talk a phone, cleanroom telephone, weatherproof phone, SIP phone, voip phone, call point outdoor weatherproof phone, solar energy help phone, tunnel telephone, 2G, 3G telephone, track-side telephone, Vandal Resistant Telephone, sip phone, tunnel phone, metro phone, highway phone, sos phones, sip phones, weather proof telephones, emergency telephones, industrial telephones, VoIP phones, bank telephones, sip telephones,intercom.