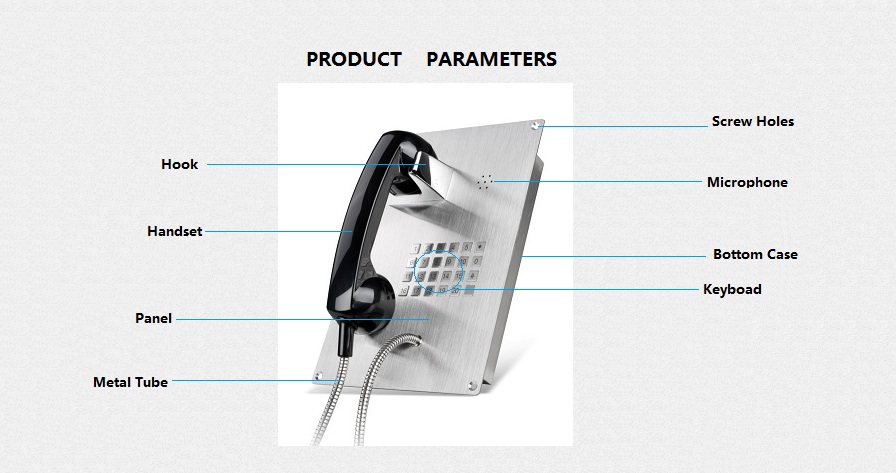 We can provide elevator parts Telephone Emergency Phone SOS device security telephone with speed dial buttons optional for the ship cockpit
The telephone is compatible with most of simulative or digit telephone distance control exchanger. Mainly used as handset free sound telecommunication in hazardous work environment.
1. Analogue / IP/VIOP optional
2. Metal body. Mechanical hookswitch.
3. Autodial when phone is picked up.
4. The speed-dial number can be optionally set or changed by keypad and its very easily operated.
5. Tally with the full function of the common telephone
6. Wearable, waterproof, moisture proof, Vandal resistant and tamper-resistant hardware
7. Lightening protection to ITU-T K.21
8. Handset integrity wiring to enable the telephone system to check if the telephone unit is still operational.
9. Selectable 7 minute time out
10. Stainless steel keypad withstands high loads.
11. The stainless steel armoured handset cord is manufactured to withstand high tensile forces.

As Public telephone for indoor or outdoor, Taxi or bus stands or station, Highway call box
Railway, metro, ATM machines side, Tunnel, Port, Dock, Mines, Generation facilities...
A good ideal telephone for use in wet or corrosive atmospheres
EN55022: emissions EN55024: immunity
Ingress Protection: GB4208-93 IP66 FCC
ITU-T Recommendations K21
EMC: EN50121(Railway application-Electromagnetic Compatibility)

PACKAGING
Packaging specifications
Machine size:280 *180 *50( mm ) Carton size:300 *200 *80( mm )
Packaging material: pearl cotton, carton
Gross weight:3.21KG
Net weight:2.51KG
Main technical indexes:
1. Applicable for various types of SPC exchange and dispatching exchange system with feeding voltage of 33-60V.
2. Ambient temperature: -30 ~ +60 degreeRelative Relative humidity: 10%~95%
Atmospheric pressure: 86~106Kpa Circumstance noise: <60dB(A)
3. Sound level of ringing: >70dB(A).
4. Standard frequency: low frequency group: 697, 770, 852, 941Hz,
high frequency group: 1209, 1336, 1477Hz, frequency deviation: -1.5%~+1.5%
If service line is a 3Km signal-level:
Standard frequency: low frequency group: -12dB~-6dB, high frequency group: -10dB~-4dB, level difference between low and high frequency of compound signal: 1dB~3dB, the total distortion caused by intermodulation of harmonic wave is lower than the basic level by at least 20dB.
5. Call transmission index: (5KM)SLR<12, RLR<-1, STMR>10, output impedance is 600 Ohm.
6. Super strong function is available for dialing 12 groups of numbers stored in the memory (maximum length of each number is16 digits)
Autodial telephone, handset emergency telephone, handfree emergency telephone, handset free emergency telephone, Auto dial emergency phone, Metal emergncy telephone, sos telephone, help telephone, GSM telephone, help point, help phone, outdoor emergency telephone, Gaitronics, emergency call point, metal help telephone, camera phone, public telephone, loud speaking phone, bank service telephone, elevator phone, window intercome, LCD telephone, hotline phone, talk a phone, cleanroom telephone, weatherproof phone, SIP phone, voip phone, call point outdoor weatherproof phone, solar energy help phone, tunnel telephone, 2G, 3G telephone, track-side telephone, Vandal Resistant Telephone, sip phone, tunnel phone, metro phone, highway phone, sos phones, sip phones, weather proof telephones, emergency telephones, industrial telephones, VoIP phones, bank telephones, sip telephones,intercom.