To aim at power plants and factories with the characteristics of heavy dust and bad environment, and common fixed phone not meeting the need of communication scheduling, our company developed KNZD - 04 - A loudspeaking waterproof telephone, which main circuit is controlled by ATML industrial-class single-chip. It owns stable performance and high intelligent, which program can be upgraded.


This phone is easy to install, operate, and expanse, with the nature of stable running and strong compatibility.


1. Product introduction

(1)Phone cover: robust cold rolling of steel plate, durable, and good sealing, sprayed imported bright static paint.
(2)Handset: ABS/PC special plastic, the integral structure, good sealing, withstanding high temperature, low temperature, not bursting and changing in form when twisted.
(3)Wire: using teflon wire, acid and alkali resistance, high temperature resistance, anti-aging.
(4)Handset, the keyboard, the buzzer, circuit board and phone cover all have dustproof function.
(
5)Good stability, strong anti-jamming capability, conforming to the national standard GB/T 15279-94.

2. Exterior structure
Exterior structure Size: 320*205*120mm, weight: 5.5KG


3. Function Introduction
(1)Loud phone ring: when the bell rings, the loudness of ring is amplified through 30 Watt. loudspeaker to avoid to miss answering the phone call due to ambient noise.
(2)Loud voice: automatically connect in when there is no one to answer the phone after ringing 5 times and start up the loudspeaker at the same time. The caller can soon give a call, the loudness of voice reaches to 120 decibels, which can effectively avoid wrong scheduling instructions or delay the convey of scheduling instructions.
(3)Simple operation: the operation way of it is the same with ordinary telephone. Sound amplification system is in automatic control of microcomputer, without need of manual operation.
(4)Safety: automatically shut up power during standby, only open power in the flow trigger, which make this work more safe and reliable.



4. System installation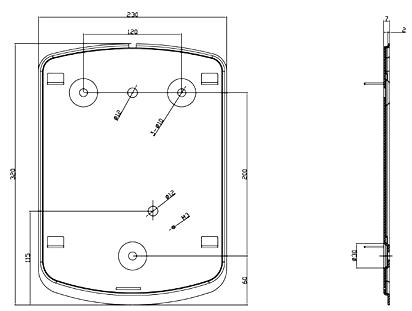 Installation size: 320×230mm Fixed with three M8-6H×15mm machine screws
Packaging specifications:

Machine size:320*230*130( mm )

Carton size:410 *365 *155( mm )

Packaging material: pearl cotton, carton

Gross weight:5.8KG

Net weight:4.3KG




Installation note:
The telephone has been made protective earthing device. In order to ensure the safe, please link a metal conductor on installation backboard if there is no earth wire. The joint of loudspeaker and the power cord should be sealed to avoid short circuit.



5. Real application
In the application of heat-engine power plant
KNZD-04 itself has high protection grade, with wall mounting, which is installed in designated position or distance inspection place(in the corridor).According to the condition of the inspection personnel flow, outer empty place(coal plant) set loudspeaker. Loudspeaker is directly controlled by the internal main circuit of phone KNZD - 04.


Power supply way:


(1)Main circuit: supply power by power line.
(

2)Power amplifier circuit: 24 Volts DC, self-bringing the nature of step-down and rectification module, output 24Volts DC after connected to the mains power.


Wiring way:
This system is linked into by simulation SPC telephone exchanges and can be linked into scheduling switchboard or administrative switches to enlarge the scope of calling.

6. Support and service:

14 months free warranty under normal use, except for man-made destruction and natural disasters.
We still provide product after service although long after the warranty period because all accessories are long-term produced and have in stock.

Autodial telephone, handset emergency telephone, handfree emergency telephone, handset free emergency telephone, Auto dial emergency phone, Metal emergncy telephone, sos telephone, help telephone, GSM telephone, help point, help phone, outdoor emergency telephone, Gaitronics, emergency call point, metal help telephone, camera phone, public telephone, loud speaking phone, bank service telephone, elevator phone, window intercome, LCD telephone, hotline phone, talk a phone, cleanroom telephone, weatherproof phone, SIP phone, voip phone, call point outdoor weatherproof phone, solar energy help phone, tunnel telephone, 2G, 3G telephone, track-side telephone, Vandal Resistant Telephone, sip phone, tunnel phone, metro phone, highway phone, sos phones, sip phones, weather proof telephones, emergency telephones, industrial telephones, VoIP phones, bank telephones, sip telephones,intercom.