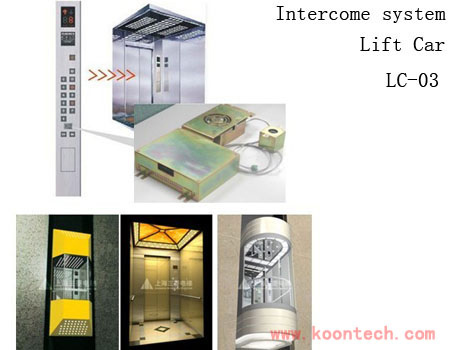 This intercom system for lift car is designed to provide a direct communication between passengers seeking help and the station controller. Its hands-free intercom system. The lift unit is connected to a PABX analogue interface and is powered by the PABX.
1. With 2 call buttons with memory. One for master button and the other one for slave button
2. with built-in 12 buttons keypad for store preset numbers.
3. with 1 call status LED,
waiting to answer: light on, conversation: flashing. Finish conversation: dark
4. Hands-free communication
6. the phone will release the line when other side hang up.
7. Lightening protection to ITU-T recommendation K.21
8. Analogue interface to PABX using 2 wire operation
9. Adjustable ringer and volume control.
10. Dry contact.
During Conversation: dry contact close. Finish conversation: dry contact open.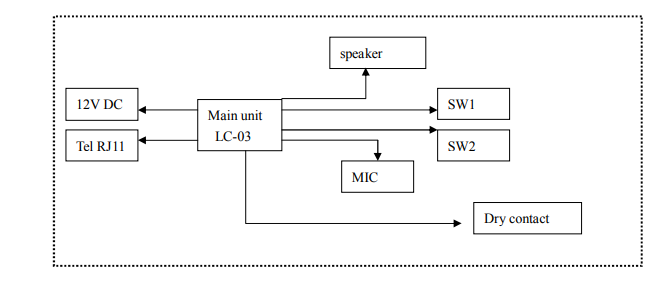 EMC: EN50121 (Railway application- Electromagnetic Compatibility)
Ingress Protection: GB4208-93 IP66
ITU-T Recommendations K21
Unit size: main unit: 186x160x200mm , speaker: 120x110x45mm, microphone: 50x50x50
1pcs in each inner CTN box, size: 43.3 x 27.6 x 19.1 G.W: 5kg
4pcs in outer CTN box, size: 56.6 x 44.5 x42 G.W: 17kg
Autodial telephone, handset emergency telephone, handfree emergency telephone, handset free emergency telephone, Auto dial emergency phone, Metal emergncy telephone, sos telephone, help telephone, GSM telephone, help point, help phone, outdoor emergency telephone, Gaitronics, emergency call point, metal help telephone, camera phone, public telephone, loud speaking phone, bank service telephone, elevator phone, window intercome, LCD telephone, hotline phone, talk a phone, cleanroom telephone, weatherproof phone, SIP phone, voip phone, call point outdoor weatherproof phone, solar energy help phone, tunnel telephone, 2G, 3G telephone, track-side telephone, Vandal Resistant Telephone, sip phone, tunnel phone, metro phone, highway phone, sos phones, sip phones, weather proof telephones, emergency telephones, industrial telephones, VoIP phones, bank telephones, sip telephones,intercom.
Tone specification:
Ringing back tone: 0.4s ON, 0.2s Off, 0.4s ON, 3 Sec Off Busy tone: 0.5s ON,0.5, Off
Built-in main unit keypad for store speed dial number