The IP Intercom/door phone will be designed to work on apartment, hospital, school, metro…Housed in robust metal body, vandal resistant and tamper-resistant. FDSP ensure voice loud and clear. Good looking, durable, easy to install, comfortable buttons, and low power consumption.


Support G.711,G.729, etc. Codec voice intercom
Support SIP 2.0(RFC3261) and related RFC protocol
Unlock function (swipe or communication) Visitor leave message Software upgrading on line or status

Basic Function:
WEB remote management of Terminal malfunction Calling indoor extension for two-way conversation Support SIP 2.0(RFC3261) and related RFC protocol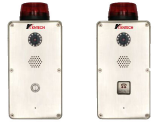 Communication protocol SIP 2.0(RFC-3261)
Master Chip Broadcom 1190
Keys Design Stainless steel
Direct-button 1
Numeric Keypad Optional
Voice Microphone 1
Amplifier 0.5W-10W
Speaker 2W
Volume Control Adjustable
FDSP Support(AEC)
Voice stream Supportable Protocol RTP/RTSP
CODEC G.711, G.729
Port Power Supply 12V+-15%/1A DC or PoE
PoE PoE 802.3af (Class 0 - 12.95W) 48V/380mA
LAN 10/100BASE-TX s Auto-MDIX, RJ-45)
Cables HSYV or better
Passive Switch Normally Open and Normally Closed highest at 30V/1A AC/DC
Active Switched Output 12V/500mA DC
Rs232 Supported
RFID/IC
Card Reader
Optional
Interface Power supply 12V+-15%/1A DC
PoE PoE 802.3af(Class 0-12.95W)
LAN 10/100BASE-TX s Auto-MDIX,RJ-45
Recommended cabling Cat-5e or higher
Passiveswetch NO and NC contacts,up to 30V/1A AC/DC
Actice switch output 12V/700mA DC
Structure Shell Material Cold Rolled Steel
Operating Temperature -40 C to55 C
Working Condition Relative Humidity 10%-95%
Storage Temperature -40 C to70 C
Installation Embedded installation (pre-burying)
Size 230*126*76.5mm

Web Business Management It is mainly used for remote management KNZD-43 voice access device, which includes such features as the device parameter management, access control parameter settings, card, log management.

Access Control:
Access control is consist of KNZD-47L video access control, exclusive DC power supply and electric lock.
Inside of KNZD-47L , self-powered electric lock can directly drive the starting current of 500mA power locks;
additionally you can also access exclusive external DC power supply and the voice access output control signals, to drive electric lock on and off by access exclusive DC power.

Intercom function:
KNZD-47L video access control intercom system consists of KNZD-47L- access control, SIP phones, phones installed SIP soft-terminal, IPPBX .
KNZD-47L video access control Access supports standard SIP protocol, and has good system compatibility with main IPPBX in the market
Autodial telephone, handset emergency telephone, handfree emergency telephone, handset free emergency telephone, Auto dial emergency phone, Metal emergncy telephone, sos telephone, help telephone, GSM telephone, help point, help phone, outdoor emergency telephone, Gaitronics, emergency call point, metal help telephone, camera phone, public telephone, loud speaking phone, bank service telephone, elevator phone, window intercome, LCD telephone, hotline phone, talk a phone, cleanroom telephone, weatherproof phone, SIP phone, voip phone, call point outdoor weatherproof phone, solar energy help phone, tunnel telephone, 2G, 3G telephone, trackside telephone, Vandal Resistant Telephone, sip phone, tunnel phone, metro phone, highway phone, sos phones, sip phones, weather proof telephones, emergency telephones, industrial telephones, VoIP phones, bank telephones, sip telephones,intercom.