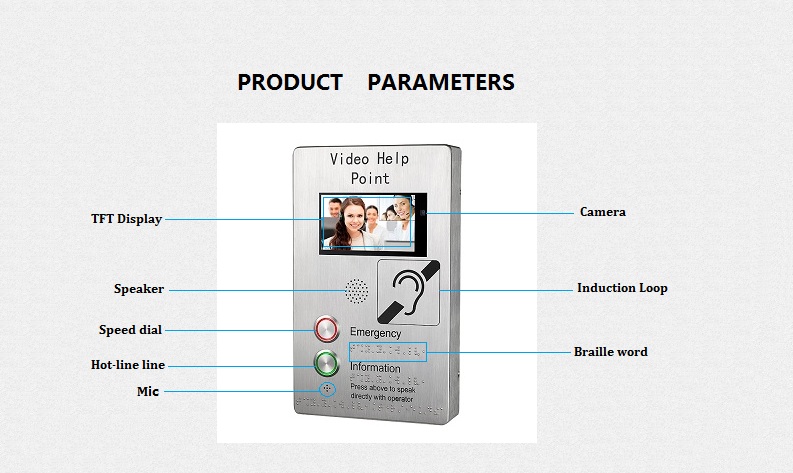 Video Intercom Telephone KNZD-60-2IPIL
Video intercom Telephone is strong and durable, with aluminum alloy wire-drawing technology, delicate and beautiful.

Emergency intercom of video is installed with hexagon screws to prevent severe damage and easy installation and maintenance. After installation, all cables can be hidden in the enclosure.

Video intercom Telephone adopts digital audio processing technology to achieve the real full-duplex intercom function with smooth voice and no interruption.

Intercom for public is equipped with 3W speaker and microphone, providing hands-free call function, with clear and bright sound; Single key call, easy to operate; In high noise environment, dynamic noise reduction algorithm is used to extract noise clearly.
1.VOIP Telephone BI-Directional Video telephone Scratch resistant, HD Screen
2.SIP supports 5 SIP servers SIP 2.0 Support TR069
3.7" digital TFT-LCD of 1024 x 600 pixels with Visual angle adjustable display screen
4.sensor camera with 5Mega pixels 2xLAN, PoE, USB
5.TWO group of speed dial for emergency call. Protection: About IP65
6.Speaker: 8 ohm 1.5W, loudness 85dB(A) to 65dB(A) MIC's working distance 80cm
7.Ring: >95dB. Coverage 1.5m radius
8.The call button is flash when ring, lighting during a call, off when standby.
9.With induction loop coverage 1M radius. Metal body
10Braille words for disable.
11.HD voice with high quality headset/HD voice in speakerphone mode
1.Array size::2592 x 1944 2.Lens size: 1/4"
3.Lens chief ray angle: 24 4.Input clock frequency: 6~27 MHz
5.Maximum Image transfer rate: 6.QSXGA (2592 X 1944): 15fps
7.720P 8.Sensitivity: 600 mV/lux-sec
9.Shutter: rolling shutter/frame exposure 10.Maximum exposure interval: 1964 xTROW
11.Pixel size: 1.4 um X 1.4 um 12.Dark Current: 8 mV/s @ 60℃ junction temperature
13.Image area:3673.6 um X 2738.4 um 14.viewing angle: 187°
EN55022: emissions EN55024: immunity
Ingress Protection: GB4208-93 IP66 FCC
ITU-T Recommendations K21
EMC: EN50121(Railway application-Electromagnetic Compatibility)
PACKAGING
Unit size:430*260*70mm Unit: N.W:4.25kg
You May Like: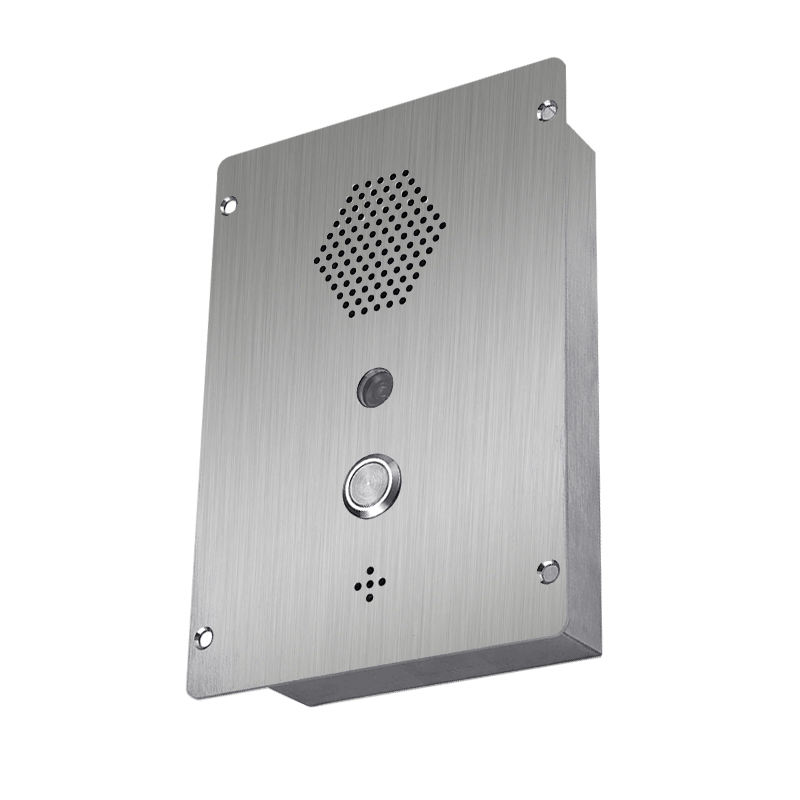 KNZD-37
SIP video telephone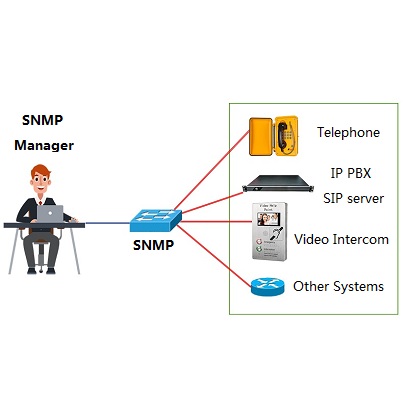 NMS-X1 SNMP
Unified network management system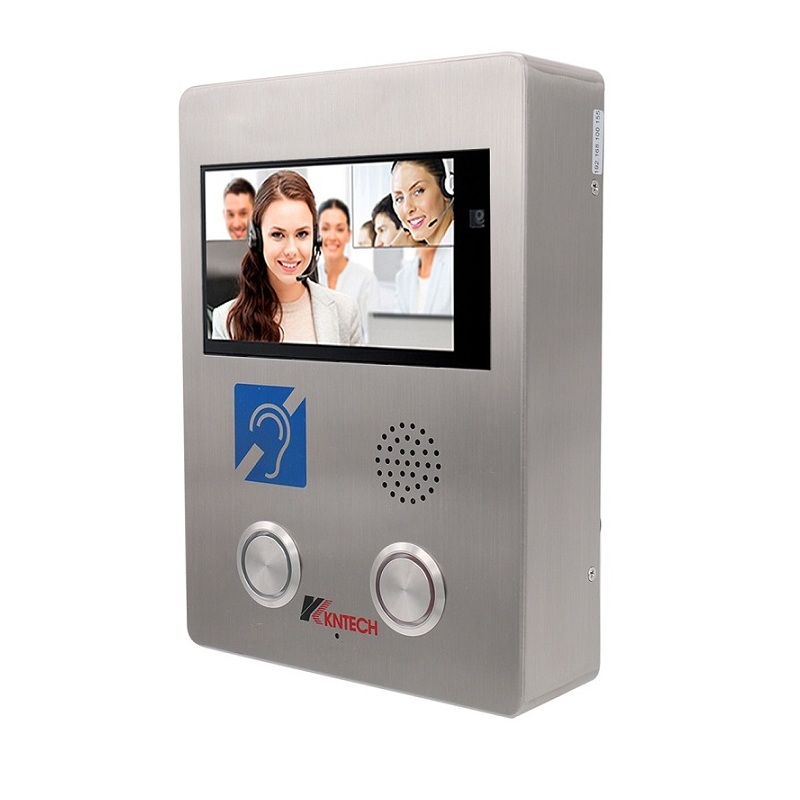 KNZD-60M
Video Intercom System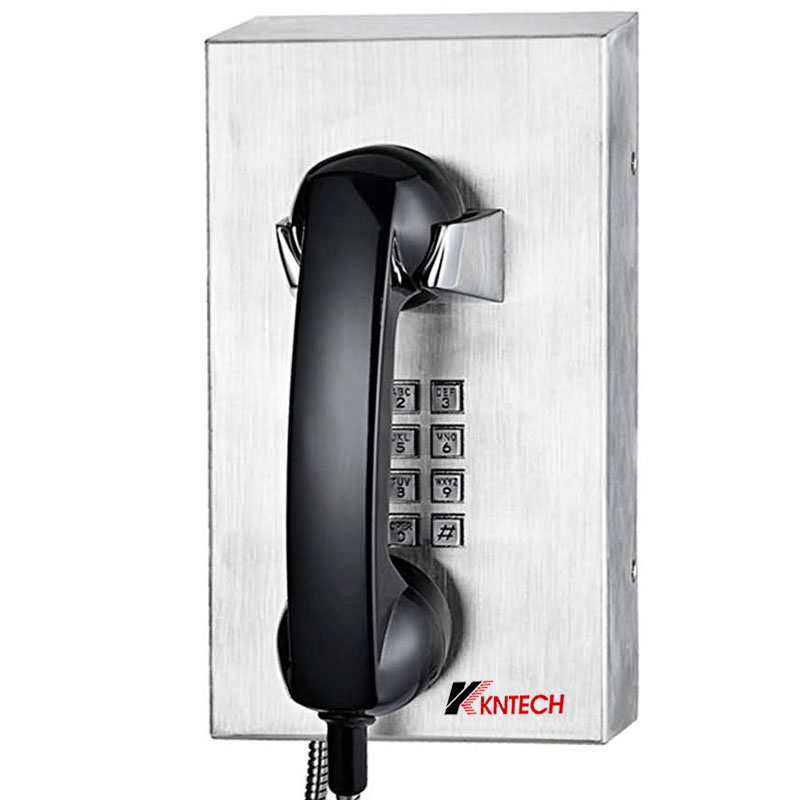 SPECIFICATION
VoIP SIP2.0 telephone DTMF dialing
MTBF:100000hours MTTR: 2 hours
Hotline (maximum length of each number is 16 digits)
Communication: Full duplex 2-way hands-free communication
Call Control Signaling:VOIP SIP Info(DTMF), RFC 2833(DTMF)
Power:Power over Ethernet, IEEE802.3af, Class 0 Local power, 12VDC,Idle 2W, Max 10W
Auxiliary Contacts:1 Aux Output, dry contact
Contact Ratings. Load: Resistive load
Rated load:0.3 A at 125 VAC; 1 A at 30 VDC
Rated carry current:1A
Max.switching voltage:125 VAC,60VDC
Max.switching current:1A
Audio Codes:G.711, G.722, G.729
Network:10/100 BaseTX Ethernet, RJ45 connectors, Cat5e or better
IP Protocols:IPv4, TCP, UDP, TFTP, RTP, RTCP, DHCP, SIP
LAN Protocols:Power over Ethernet(PoE,802.3af), WLAN(IEEE 802.3af), Network Access Control(IEEE 802.1x),STP(IEEE 802.1d), RSTP(IEEE 802.1d-2004)
Programming:Non-volatile flash memory programming and configuration through Web GUI
Management and Operation:DHCP and static IP, remote automatic software upgrade, centralized monitoring, status LED
Echo cancellation code:G.167/G.168