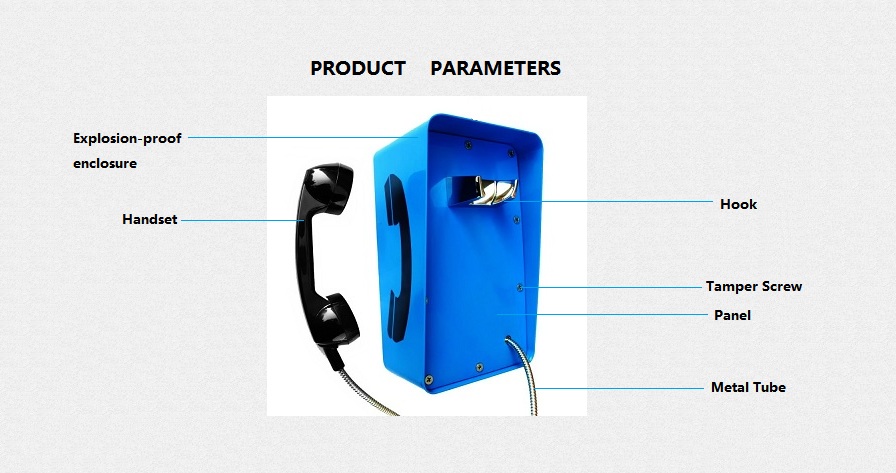 KNZD-09A
Highway Emergency Telephones
We can provide
Highway Emergency Telephones
Anti-explosion telephone outdoor telephone Anti Rain and lightning made of Stainless steel for roadside or park ,Different specifications of the Anti-explosion telephone.
The Weatherpoof phone will be designed to work on Railway, metro,tunnel,etc.Housed in cold rolled steel case with spring loaded door,it will offer protection
against the outdoor environment, vandals and rot resistance.The unit will meet all the latest European/UK standards for EMS and US FCC, telephony,waterproofing,
and lightening protection together with offering the level of performance and reliability demanded in such an envirnment.
The emergency telephone adopts fully streamlined design, beautiful and easy. All metal aviation technology on casting molding, integrated structure stability is good, body strong and durable, strong knock rating.
1.Main body with whole stainless steel body,solid and temperature bearable.
2.Heavy duty Vandal resistant buttons.
3.Resume lightning proof protection automatically standard to ITU-T K21.
4.Waterproof grade about IP65.
5.The metal shell is provided with grounding connection device and is absolitely insulated with inner circuit and electric,then has the offect of electromagnetism shield.
6.Support hotline call, can realize ring off automatically if the other side close.
7.The design is super thin and smart.Embed style and hanging style can be chisen.
8.Totally adopt SMTC craftwork keep very good quality.
9.Every call is limited(set by five minutes),auto ring off if time exceeded.(Option)
10.Colours:RED+Stainless steel colour,if the qty over 100pcs can be to custometr specification.
11.Trouble alarm send by SMS/GPRS message.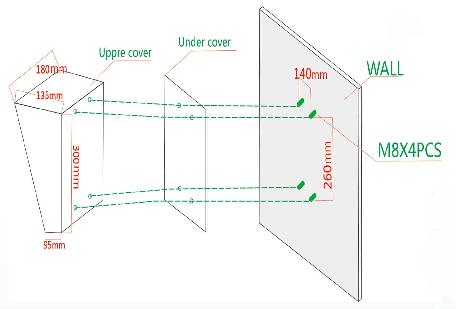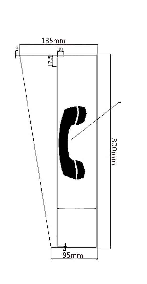 CERTIFICATION

Packing detail:

Unit size:300*180*135MM, N.W:3.5KG
1pcs in each inner CTN box,size:439*277*191mm G.W:4.2KG
4pcs in outer CTN box,size:566*445*420mm G.W:18.1KG
Autodial telephone, handset emergency telephone, handfree emergency telephone, handset free emergency telephone, Auto dial emergency phone, Metal emergncy telephone, sos telephone, help telephone, GSM telephone, help point, help phone, outdoor emergency telephone, Gaitronics, emergency call point, metal help telephone, camera phone, public telephone, loud speaking phone, bank service telephone, elevator phone, window intercome, LCD telephone, hotline phone, talk a phone, cleanroom telephone, weatherproof phone, SIP phone, voip phone, call point outdoor weatherproof phone, solar energy help phone, tunnel telephone, 2G, 3G telephone, track-side telephone, Vandal Resistant Telephone, sip phone, tunnel phone, metro phone, highway phone, sos phones, sip phones, weather proof telephones, emergency telephones, industrial telephones, VoIP phones, bank telephones, sip telephones,intercom.
Main PCB
1.Well treated PCB used inside the phone.
2.Robust screw terminals used for the connection of ringer,handset,line in,hookswitch.
3.Selectable 7 minute time out,to release the line if the handset is left off hook.
4.All connectors be greased in production.
Handset
1.Kirk electro dynamic transducer for both handset transmitter and receiver.
2.Spring cable or armoured cable to attach the handset to the teleohone main unit.
3.Stainless steel cable to connect exchange.
4.Inductive coupler fitted for hearing aid compatibility.
5.Handset integrity wiring to enable exchange to check if the phone is still operatitional.
VOIP OVER IP-SIP(Version)
Connection type:Rj45 Socket inside sealed enclosure
Power supply:External 5V dc
Call set-up Protocol:Session Initiation Protocol(SIP)
Configuration:DHCP or STATIC IP address provisioning
GSM version
GSM 2G/3G Solar Powered with built-in rechargeable battery
1.Network Interface:GSM Frequency:850/900/1800/1900Mhz,2G,3G.WCDMA.
2.Ringing:Through internal Speaker/ringer.
3.Power Supply:Re-chargeable Battery powered:9V/14Ah.
4.Solar back-up:12V/30W.
5.Time out:selectable 0-20 minutes.
6.Built-in battery standby:21 days,can improve to 42 days.
7.Built-in battery talking time:56 hours,can improve to 100 hours.
Connection cable
Stainless steel connection cable to exchange
Well treated keep waterproof
TECHNICAL SPECIFICATION
1.Applicatble for various types of SPC exchange and dispatching exchange system with feeding voltage of 33v-60v.
2.Ambient temperature:-30°C-70°C Relative.
3.Souned level of ringing>=85db(A).
4.Call transmission index:(7KM)SLR<=12,RLR<=-1,STMR>=10,output impedance is 600Ω.
5.Super strong function is available for dialing 12 groups of numbers stored in the memory.(maximum length of each store number is 16 digits)