KNZD-15

Elevator Telephone
We specializing in the production and sales of weatherproof phone Stainless steel Industrial telephone Lightening protection telephone Handset free with flat keypad for clear room or industrial coal mine
Analogue/IP/VOIP version optional.
Characteristics:
1. Main body with whole aluminum alloy with stainless steel front plate.
2. Handset free, double loudspeaker, with indicator display while speaking.
3. Lightening protection to ITU-T K.21
4. One memory keypad. Illuminated buttons optional
5. Adjustable 7 minute timeout optional
6. Waterproof grade is IP65
7. Support hotline call, can realize ring off automatically by the receiver
8. The design is super thin and smart. Embed style and hanging style can be chosen.
9. Size: according to customer's request.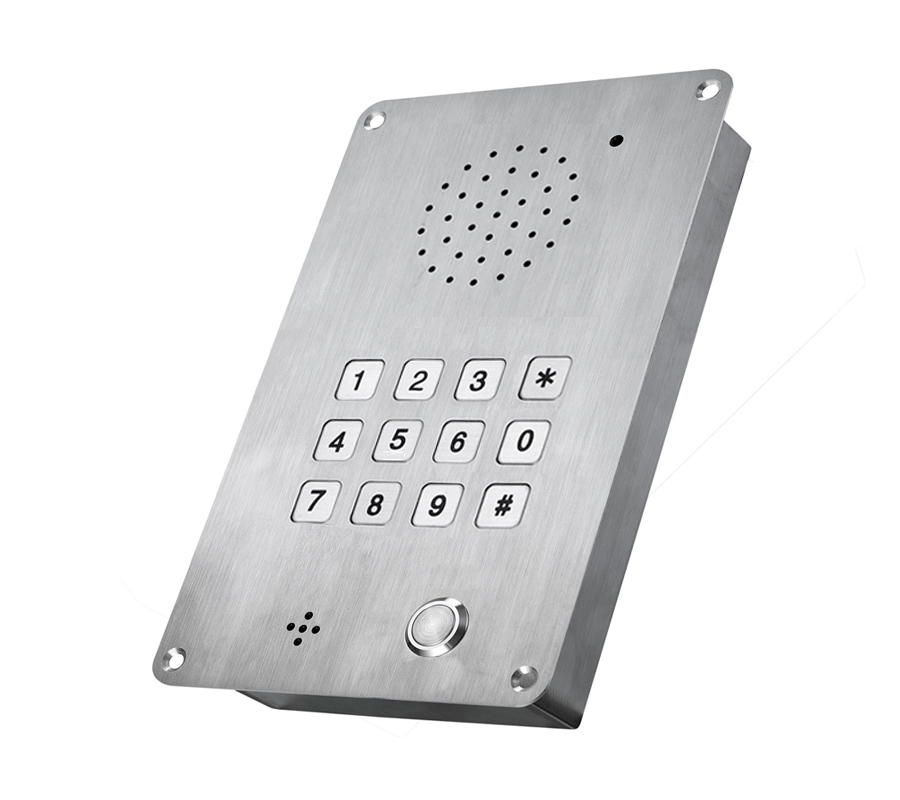 Approvals
EMC: EN50121 (Railway application- Electromagnetic Compatibility)
EN55022: emissions
EN55024: immunity
Ingress Protection: GB4208-93 IP67
FCC
ITU-T Recommendations K21
Packaging specifications
Machine size:210 *150 *4( mm )
Carton size:325 *235 *165( mm )
Packaging material: pearl cotton, carton
Gross weight:1.75KG
Net weight:1.25KG
20GP: 2000PCS, 40GP: 4000PCS, 40HQ: 5200PCS
Autodial telephone, handset emergency telephone, handfree emergency telephone, handset free emergency telephone, Auto dial emergency phone, Metal emergncy telephone, sos telephone, help telephone, GSM telephone, help point, help phone, outdoor emergency telephone, Gaitronics, emergency call point, metal help telephone, camera phone, public telephone, loud speaking phone, bank service telephone, elevator phone, window intercome, LCD telephone, hotline phone, talk a phone, cleanroom telephone, weatherproof phone, SIP phone, voip phone, call point outdoor weatherproof phone, solar energy help phone, tunnel telephone, 2G, 3G telephone, track-side telephone, Vandal Resistant Telephone, sip phone, tunnel phone, metro phone, highway phone, sos phones, sip phones, weather proof telephones, emergency telephones, industrial telephones, VoIP phones, bank telephones, sip telephones,intercom.