Description:
Defend grade: GB 4208-93 IP 66 / IP67
Call capability of phone: GB/T 15279-94
Application scope: metro, light railroad, speedway, ship, mine, etc.
External configuration specification:
External dimension: 320*205*120mm Weight: 5.5Kg
Installment dimension:139*260mm M8 bolt is used to install

Main features :
1. Cabinet:aluminum alloy die - casting, high anti-violent, able to glisten, convenient for looking for
2. Door cover:orient automatically and good self - closing, convenient for use.
3. Handset:made of special engineering plastic, high anti-knock resistance. high tensile strength resistance and high anti-violent.
4. All of the components including handset telephone receiver and transmitter, keypad, buzzer, circuit board and cabinet are designed to be multi - layer waterproof and dust - proof which is up to Class III grade. The whole machine is up to national standard GB4208-93 IP 66.
5. Phone is provided with high stability, high anti-jamming capability, and it is up to national standard GB/T 15279-94.
Specification:
1. Applicable for various types of SPC exchange and dispatching exchange system with feeding voltage of 33-60V.
2. Ambient temperature:-30 ~ +60 degree Relative humidity:10%~95%
Atmospheric pressure: 86~106Kpa Circumstance noise:less than 60dB(A)
3. Sound level of ringing:>70dB(A).
4. Standard frequency:low frequency group:697. 770. 852. 941Hz,
high frequency group:1209. 1336. 1477Hz, frequency deviation:-1.5%~+1.5%
If service line is a 3Km signal - level:
Standard frequency:low frequency group:-12~-6dB, high frequency group:-10~-4dB, level difference between low and high frequency of compound signal:0~3dB, the total distortion caused by intermodulation of harmonic wave is lower than the basic level by at least 20dB.
5. Call transmission index:(5KM)SLR<12,RLR<-1,STMR>10, output impedance is 600 Ohm.
Packaging specifications
Machine size:320 *205 *120( mm )
Carton size:439 *277*191( mm )
Packaging material: pearl cotton, carton
Gross weight:7KG
Net weight:5.2KG
VOIC OVER IP- SIP (Optional)
Connection type: RJ45 Socket inside sealed enclosure
Power supply: External 24V dc
Call set-up Protocol: Session Initiation Protocol(SIP)
Configuration: DHCP or STATIC IP address provisioning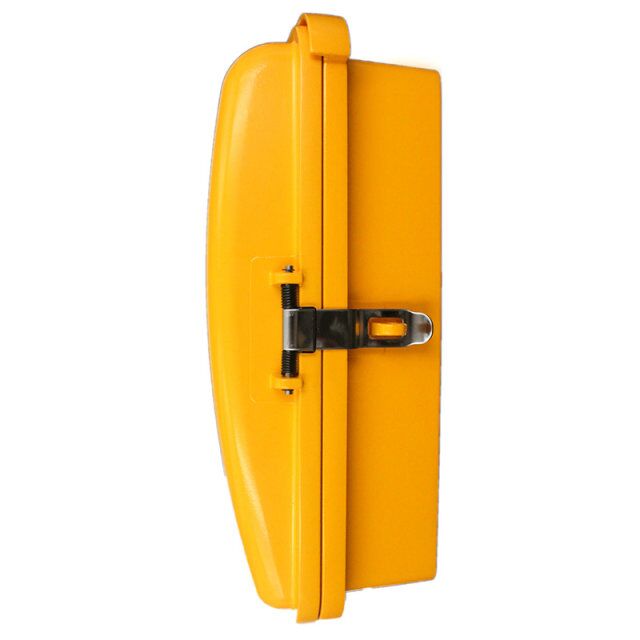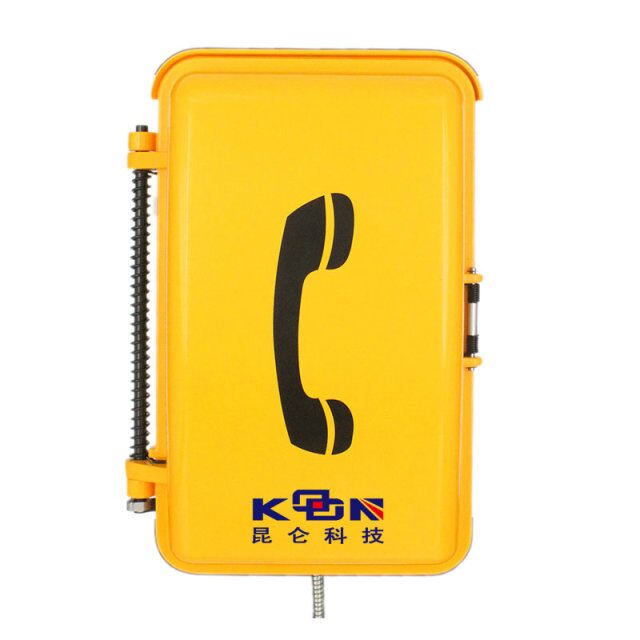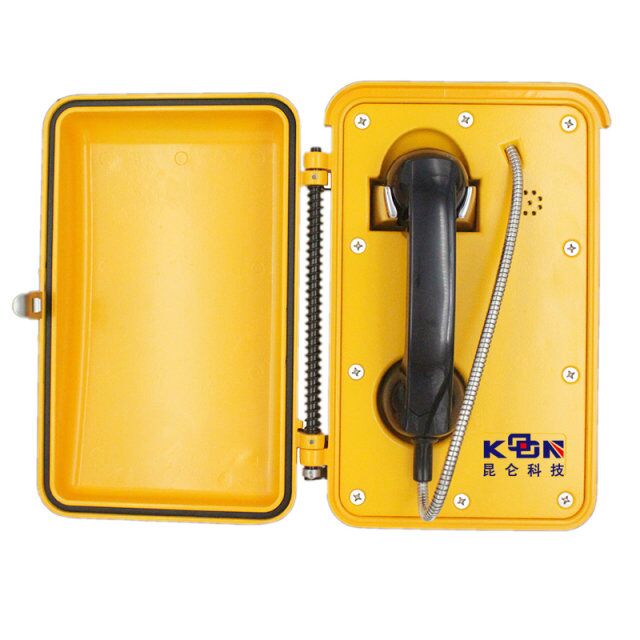 Autodial telephone, handset emergency telephone, handfree emergency telephone, handset free emergency telephone, Auto dial emergency phone, Metal emergncy telephone, sos telephone, help telephone, GSM telephone, help point, help phone, outdoor emergency telephone, Gaitronics, emergency call point, metal help telephone, camera phone, public telephone, loud speaking phone, bank service telephone, elevator phone, window intercome, LCD telephone, hotline phone, talk a phone, cleanroom telephone, weatherproof phone, SIP phone, voip phone, call point outdoor weatherproof phone, solar energy help phone, tunnel telephone, 2G, 3G telephone, trackside telephone, Vandal Resistant Telephone, sip phone, tunnel phone, metro phone, highway phone, sos phones, sip phones, weather proof telephones, emergency telephones, industrial telephones, VoIP phones, bank telephones, sip telephones,intercom.