We specializing in the production and sales of Wall-mounted telephone doorphone support sip2.0 with POE and big button for Bank or airport support remote open the door Option: with illuminated push button
The IP Intercom/door phone will be designed to work on apartment, hospital, school, metro…Housed
in robust metal body, vandal resistant and tamper-resistant. FDSP ensure voice loud and clear. Good
looking, durable, easy to install, comfortable buttons, and low power consumption.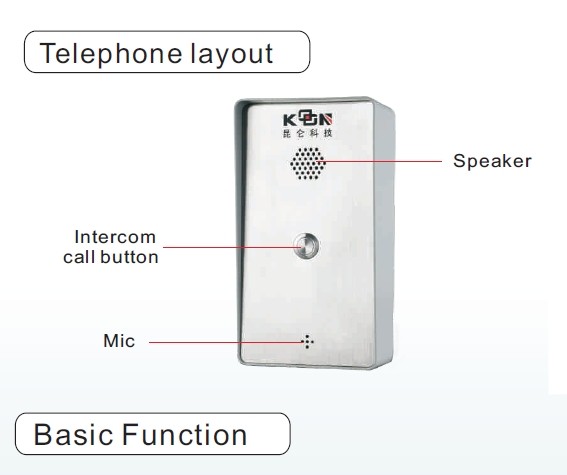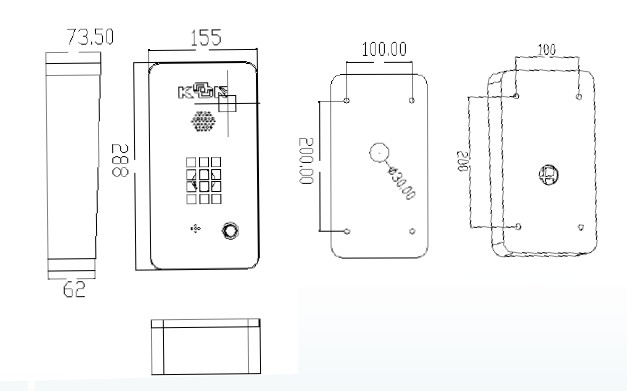 Support G.711,G.729, etc. Codec voice intercom

Support SIP 2.0(RFC3261) and related RFC protocol

Unlock function (swipe or communication) 
Visitor leave message

Software upgrading on line
or status
Basic Function
WEB remote management of Terminal malfunction
Calling indoor extension for two-way conversation
Support SIP 2.0(RFC3261) and related RFC protocol





Web Business Management
It is mainly used for remote management KNZD-45
voice access device, which includes such features
as the device parameter management, access
control parameter settings, card, log management.
Access Control
Access control is consist of KNZD-45 voice access
control, exclusive DC power supply and electric
lock . Inside of KNZD-45 , self-powered electric
lock can directly drive the starting current of 500mA
power locks; additionally you can also access
exclusive external DC power supply and the voice
access output control signals , to drive electric lock
on and off by access exclusive DC power.
Intercom function
KNZD-45 voice intercom system consists of
KNZD-45- access control, SIP phones, phones
installed SIP soft-terminal, IPPBX . KNZD-45
Voice Access supports standard SIP protocol,
and has good system compatibility with main


IPPBX in the market




IP door phone
intercoms for every situation-whether in security,
business,emergency,or any other special area.
From providing simple applications requiring a
clear and easy connection to a single IP telephone,
to comprehensive communication arrangemens
integrated into security and signalling system and
IP PBXs.Having the highest quality and certification,
ensures compatibility with industry-standard-based
IP network solutions such Avaya,Cisco,and others.